"Go all out"
The expert Christoph Bornschein knows that digitalization doesn't work in small steps. Companies need to make radical changes.
Christoph Bornschein is the co-founder of an agency for digital transformation named "Torben, Lucie und die gelbe Gefahr" (TLGG – Torben, Lucie and the Yellow Peril) based in Berlin and New York. The agency advises federal ministries and Dax companies on digitalization.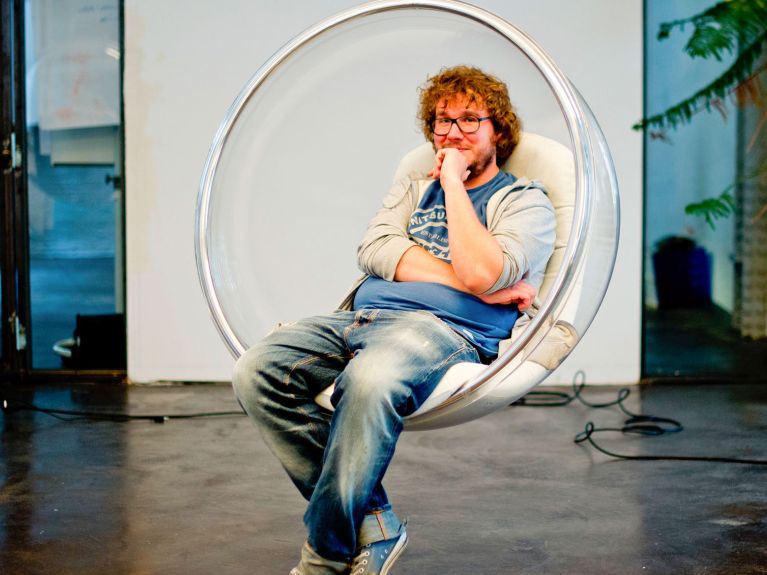 Mr Bornschein, which digital trend inspires you at the moment?
At the moment I'm more inspired by the new ways of using digital themes than by individual digital trends. More and more traditional companies and institutions are discovering that their old approach no longer gives them a competitive advantage. They're asking themselves which role do they want to play in the digital economy, and they are talking less and less about tools and selective adjustments.
You once said the German economy is operating with antediluvian business models. Is it really that bad?
Up to a point, definitely. We have spent a century thinking earlier innovations through to the end, optimizing things and solving the problems of travelling salesmen. For far too long digital transformation was seen as the next optimization stage, rather than as a comprehensive radical change in everything that it represents. Only a few people have developed a plan or even a strategic objective for this. On the other hand, it's becoming clear that more is needed than the digitalization of traditional processes – in fact it's about entirely new processes, new ideas, new enterprises.
You've been called a digitalization whisperer. How should German companies react now?
Basically, the winner-takes-it-all markets that form in most sectors mean that there are lots of losers. Isolated interventions and departments devoted to innovation are not enough. Go all out! Small enterprises need to realize that they have to co-operate. Many of the major changes, from restructuring the entire value chain through to the sector platform, can't be implemented alone. So, don't go it alone!
Your agency TLGG reckons that change calls for swots and geeks, transformation calls for common sense and confetti. What exactly does that mean?
Successful change takes place in a healthy relationship between driving forces and resistant forces. Identifying what is worth preserving and enabling it to help shape fundamental changes is an essential part of our advisory work. Another is shaping these changes effectively and inclusively.
You have questioned whether a democracy can respond quickly enough to megatrends. Decisions pushed through by a political committee are quicker. Do forms of rule determine success?
Different forms of rule do in fact create different preconditions for concrete actions. The problem, especially with our democracy, is that although it recognizes the need to act, it has barely formulated any strategies or even objectives. It would rather carry on optimizing the status quo. But we have long since left the age of optimization behind us.
Interview: Martin Orth