Three mistakes about the digitization of work
As part of the science year "WORKS WORLDS OF THE FUTURE", experts have cleared up some common misconceptions. Three examples.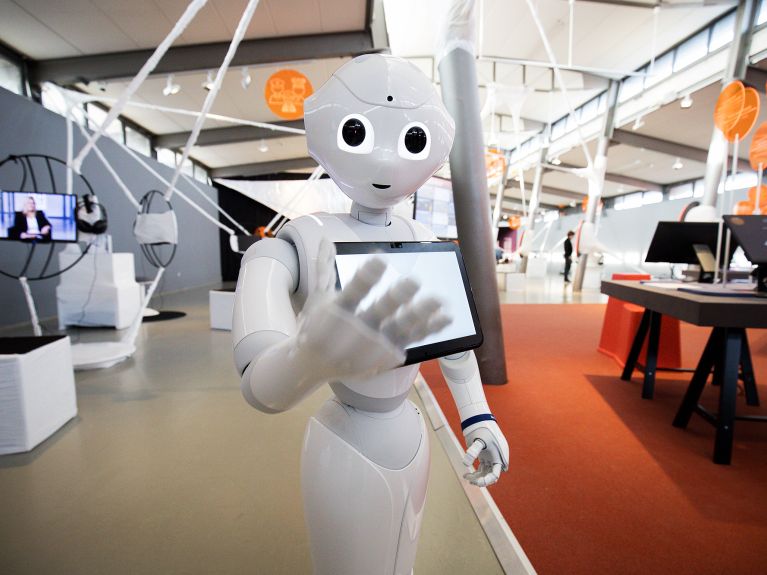 1. Robots take away our jobs.
"The facts speak against it", says Jens Südekum, Professor of International Economics at the Heinrich Heine University in Düsseldorf. He has studied the influence of industrial robots on the German labour market. From 1994 to 2014, 131,000 robots were installed in Germany. This led to a decrease of about 275,000 full-time jobs. However, these losses were fully offset by new non-industry jobs, especially in business-related services. So robots have changed the structure of employment but not the total number of jobs.
2. Machines take over our thinking.
"Artificial intelligence is a long way from human intelligence", says Jens Redmer of Google Germany. Artificial intelligences are already taking over many jobs in the work world – machines and web systems are used to optimize processes and make physical tasks easier– but it is still human beings who must always decide how and where AI is to be used.
3. Using social media dums you down.
"Horror scenarios about the purportedly disastrous consequences of social networks on school performance are unfounded", says Professor Markus Appel, a psychologist and holder of the Chair for Media Communications at the Julius Maximilian University in Würzburg. Together with scientists from the Universities of Würzburg and Bamberg, he evaluated 59 individual studies from all over the world as to the connection between social media use and school performance. They found no evidence that the intensive use of Snapchat, Instagram or Facebook harms educational achievement and the performance.