Flying helpers
Drones can save lives: When it comes to disaster relief or supplying vital medicines to remote areas.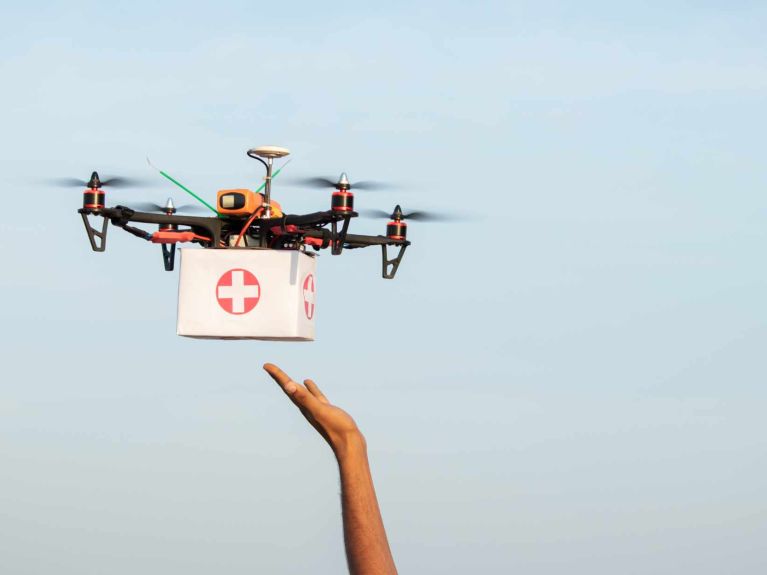 Drones are assuming more and more responsibilities, and soon it will be impossible to imagine life without them. These small aircraft can do a lot more than just deliver parcels, however – they can also save lives, for drones are deployed for example in disaster relief or to supply people with vital medicines.
Drones in disaster situations
Following the flooding in the Ahr Valley in 2021, German and Austrian scientists studied how drones could support the emergency services in disaster areas. In the project "Aifer" (Artificial Intelligence for Emergency Response), the researchers are working to develop artificial intelligence that can analyse data from satellites, aircraft, drones and social networks and turn it into useful information in real time. Emergency crews can then use the data for example to identify areas of flooding or damage to buildings or roads. A detailed picture of the situation forms the basis for concrete decisions in the affected region.
Medical drugs by drone
An unmanned drone lands in front of a person's house, delivering essential medicines. Though this may sound like a vision of the future, it is already happening in Malawi. Since 2018, the German drone manufacturer Wingcopter and the Deutsche Gesellschaft für Internationale Zusammenarbeit (GIZ) have been working together to supply medical drugs to particularly remote areas. The drones have been deployed in Malawi since 2020, and have already flown more than 800 kilometres there.
On behalf of Germany's Federal Ministry for Economic Cooperation and Development and the European Union, the GIZ and the UN Children's Fund Unicef are supporting the establishment of an academy in Malawi that specialises in drone and data technology. It trains experts who are able to build and control the drones, and to analyse the data they supply. This lays the foundations for the drones to be increasingly deployed in health protection and disaster relief in the future.
You would like to receive regular information about Germany? Subscribe here: