Drones in humanitarian missions
A German Unicef worker has visited an innovative project in Malawi: The African Drone and Data Academy.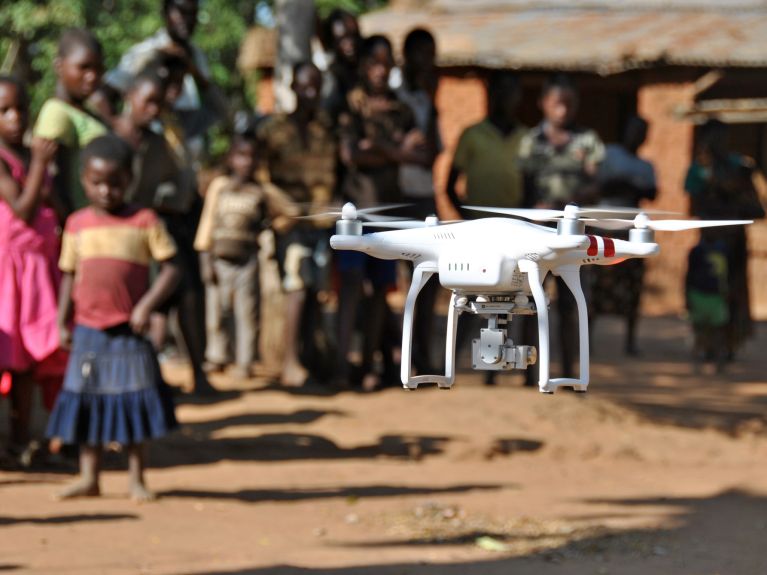 Malawi in South-Eastern Africa is one of the poorest countries on earth. The German Unicef worker Claudia Berger was there at the beginning of November 2021. "I saw sheer desperation in many places," she says in her report after her returning to Germany. "The people are worrying now about how the next harvest will turn out, whether there will be floods." But in Malawi, Ms Berger also visited the African Drone and Data Academy: "After seeing so much poverty on my journey, I suddenly arrived in an entirely different world."  
From the drone corridor to a university course
The first drone was corridor opened in Malawi In 2017 with the aim of using the data collected on test flights by small unmanned aircraft for humanitarian purposes. Since 2020 Unicef has been funding the African Drone and Data Academy at the University of Science and Technology. Eight students from Malawi and eight additional students from other African countries are studying there. The skills include how to collect data and how to fly drones.
"The participants are incredibly highly motived to make changes in their countries," says Ms Berger. She remembers one situation particularly well, when there was an electricity failure during a presentation: "They simply carried on completely unfazed, as if to show that no matter what happens, we'll get things done." She says that in Malawi only ten per cent of people in towns and cities, and only three per cent of the population in rural areas have electricity.
The spectrum of drone application possibilities is broad: For instance, "drones enable us to discover where the mosquito breeding grounds are, making it easier to combat malaria," Ms Berger explains. "And during floods, drone flights can help us to see how bad the situation is and what the people need. In 2022 we will start delivering Covid vaccines to remote areas via drones."
You would like to receive regular information about Germany? Subscribe here: