How young people view the world
Unicef has asked the opinions of 21,000 people around the globe. You can find out here what young Germans think.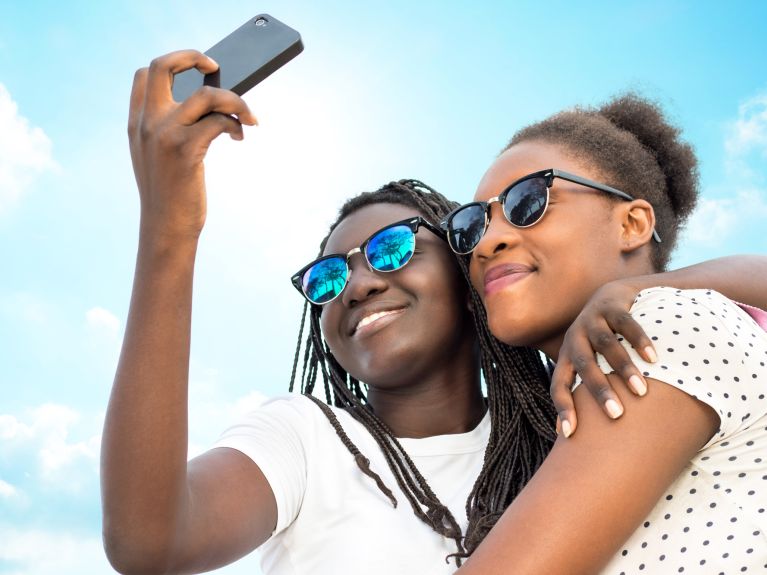 Unicef and Gallup public opinion research institute have interviewed more than 21,000 people in the age groups of 15 to 24 years, and the over 40's, in 21 countries for the Changing Childhood Project. Here we are highlighting the most important responses:
Is the world becoming a better place to live with every new generation?
The worldwide response is a definite yes from 57 per cent of the people under 24 years of age – despite climate change and the Covid-19 pandemic. In Germany 61 percent agreed, and in Indonesia the positive response notched up a high of 82 per cent. But in the group of people over 40 years of age the response was far less optimistic: In Germany and worldwide only about 40 per cent believe that the world is becoming a better place to live.
How much do young people trust the social media?
The social media are by far the most important source of information for young people worldwide (69 per cent as opposed to 32 per cent among older people). But their trust is no greater. Only 17 per cent rely "very strongly" on social media content, while it's just 12 per cent among the older people. The highest level of trust worldwide is enjoyed by people working in healthcare, but even here only 61 per cent of respondents put their trust in them.
What is home to you?
Young Germans lead with 67 per cent when it comes to seeing the world as their home, while older Germans still notch up 41 per cent in this respect. On a worldwide average 39 per cent of young people see themselves as world citizens, whereas only 22 per cent of older people think this way.
How important is the equal treatment of all people?
Young people everywhere think that people should be treated equally, irrespective of gender, racial, ethnic, and religious backgrounds. In this respect the scores in Germany were over 90 per cent for young people, and worldwide they lay between 69 per cent on the topic of religion and 85.8 per cent on the equality of women.
Unicef's Executive Director Henrietta Fore summed up the survey as follows: "Children and young people refuse to share the gloomy outlook of many adults. In contrast to older generations, young people remain optimistic, think more globally and are determined to make the world a better place."
You would like to receive regular information about Germany? Subscribe here: