Human rights in production
Preventing child exploitation, monitoring supply chains: How the federal government and initiatives are promoting humane working conditions.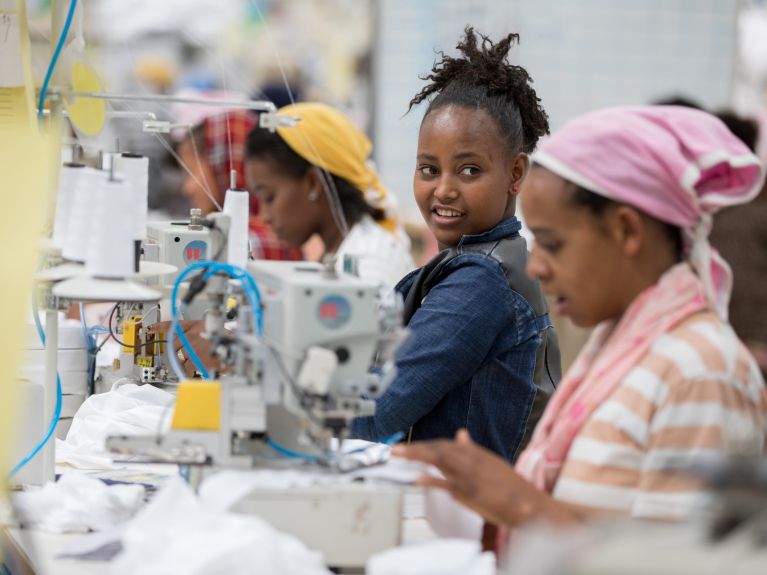 Improving the working conditions of people throughout the world: To ensure that international concerns take responsibility for more than just global supply chains, the federal government passed the National Action Plan on Human Rights (NAP) in 2016 which implements the guiding principles of the United Nations (UN). The aim is that at least 50 percent of major German companies identify the effects of their activities on human rights and, if necessary, find remedies. During the German EU Council Presidency, the federal government will be pushing for standardized European regulations. Numerous civil society organizations are also campaigning for humane working conditions.
Legal regulation of supply chains
The Supply Chain Law Initiative, which was founded in 2019, is an association of around one hundred NGOs, trades unions and church organizations. It is pushing for the federal government to call the economic sector to account: Companies whose supply chains cause harm to people and the environment, or willingly accept such consequences, should be made liable for their actions, and the injured parties should be able to take legal action in German courts. The initiative is currently condemning the reaction of numerous fashion companies to the Covid-19 pandemic: Orders from Asia were cancelled, and sometimes payment was refused for already finished goods.
Sustainable production of palm oil
Rainforests are being cleared to create palm oil plantations. The resulting environmental and social damage is enormous. The Roundtable on Sustainable Palm Oil (RSPO) has been campaigning for the sustainable production of palm oil since 2004. The association includes palm oil producers, traders and processors, retailers and investors. The RSPO-certificate is awarded for compliance with ecological and social standards, whilst the clearance of high conservation value forests, slash and burn practices, expropriation and child labour are prohibited.
Responsible extraction of raw materials
A reform of the German raw materials policies is the declared aim of the Working Group on Raw Materials, an association of eleven NGOs. The working group, which was formed in 2008, demands legal liability for companies that profit from raw material extraction, as well as a binding EU regulation on the responsible acquisition of raw materials from areas of risk or conflict.
You would like to receive regular information about Germany? Subscribe here: