"I screamed with joy"
She calls Tom Hanks "Tommypot" and has been nominated for a Golden Globe in 2021. At twelve years of age, Helena Zengel from Germany has made a flying start in Hollywood.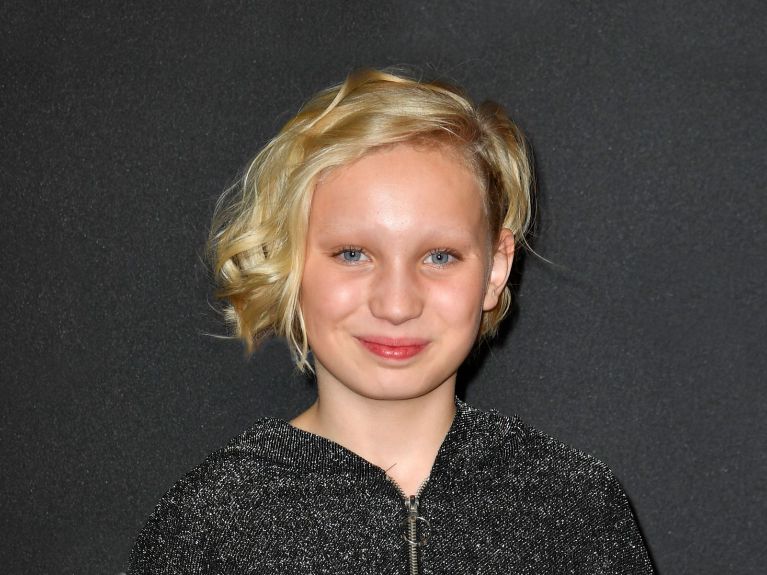 She rampaged through the drama movie System Crasher (German title: Systemsprenger) as the difficult and traumatised Benni. It was an extraordinary film and an impressive performance by Helena Zengel, who was born in June 2008. For the role she received the 2020 German Film Award as Best Actress. And it was followed by a first offer from Hollywood. News of the World is a western in which the girl from Berlin plays an orphan who grows up among Kiowa after her parents are murdered. She is taken to her only surviving relatives by Tom Hanks in the role of a Civil War veteran. Again Helena Zengel's acting simply leaves you open-mouthed in amazement. Where does she find this energy and strength?
Helena, you have been nominated as Best Supporting Actress in a Motion Picture at the 2021 Golden Globes. How does it feel to be an up-and-coming international star?
I love acting, I enjoy being an actress and definitely want to stay one, so I'd like it to carry on!
Did you always know you wanted to be an actress?
As a small child I always wanted attention. I've always been a wild, excited, zany kid who runs around a lot, has fun and likes doing sports. But I never said I wanted to be an actress before I got the first proper roles.
What were the first proper roles then?
I had the first main role in Die Tochter by Mascha Schilinski when I was seven years old. Before that I only played small parts, but in my first main role I thought to myself: "This is it." Then came System Crasher, which was very successful in Germany.
What was the first thing that came into your head when you discovered you had been nominated for the Golden Globe as Best Supporting Actress, as was Superstar Jodie Foster?
I was speechless, I felt bowled over and I screamed with joy.
How did you get the role of Johanna in News of the World?
Because of System Crasher. One of the producers of News of the World had seen me in the film at the Berlin International Film Festival and recommended me to Paul Greengrass, the director. He was really knocked out by my eyes and how I can use them to convey emotions. After the Berlin International Film Festival I first had a casting session in Berlin, then in London and afterwards I knew: I have the role of Johanna.
What were the greatest challenges while filming in America?
Not stepping on a snake.
And what was most fun for you?
Of course, I always find it great filming with horses. I love horses and have one myself. And it was super spending time with Tom Hanks; he's now one of the family for me.  We're really close friends. One of the actors in the film is his son Truman, who Tom nicknames "Trupot". I also got on incredibly well with Trupot and then eventually began calling Tom "Tommypot". He always calls me "Helenenananapot". I don't know why we did that, but it was very funny. We got on really well and still have lots of contact even now.
What did you learn from Tom Hanks while you were filming together?
I gained lots and lots of experience with Tommypot. He gave me tips and helped me with lots of things; he's simply a totally fun person. Although he's a superstar, he doesn't put on airs and graces. You think that Tom Hanks will turn up at the set in a Lamborghini, with black leather shoes and sunglasses and then walk straight to his trailer. But he came in moccasins, sweatpants and a big pullover, said hello to everyone first and drank his coffee on the veranda. He's a totally normal person and simply great fun.
Did Tom Hanks also learn anything from you?
I was able to teach him a bit of German. In fact, it was: "Wo finde ich was zu essen?" (Where can I get something to eat?) I told him about the book that I'm reading: Mutant Message Down Under by Marlo Morgan, which is called Traumfänger in Germany. Tom tried to learn the German title, but he always said "Traumfanger". I wanted to teach him the word "fänger", but he always just said "faaanger".
In News of the World you speak German and Kiowa. Could you now also imagine making films in English?
Yes, definitely. At the moment we're receiving lots of offers because of the success – from other countries too. I now speak fluent English. Although I'm still only twelve years old, I can communicate totally normally and have no problems with the English language. Now I'm also writing a book in English.
What's the book about?
At first, it was a secret, but now it's public. I've begun writing an English book about an orphan girl. When she gets older she notices that she can travel to other dimensions and make contact with her dead family there. I think it's a good subject that you can make a lot of. That's why it's my dream to film the book one day and play the role of the girl myself.
Can you imagine having a different occupation one day – for example, author or director?
Yes, definitely. But I think that acting will always be the most important thing in my life. Nevertheless, I can still imagine directing my own film someday.
You would like to receive regular information about Germany? Subscribe here: