Entdecke DE: Industrial Culture
The Entdecke DE series takes you on a tour through Germany. This time we are discovering new life in old industrial sites and how unique cultural landscapes emerge from relics of the industrial age.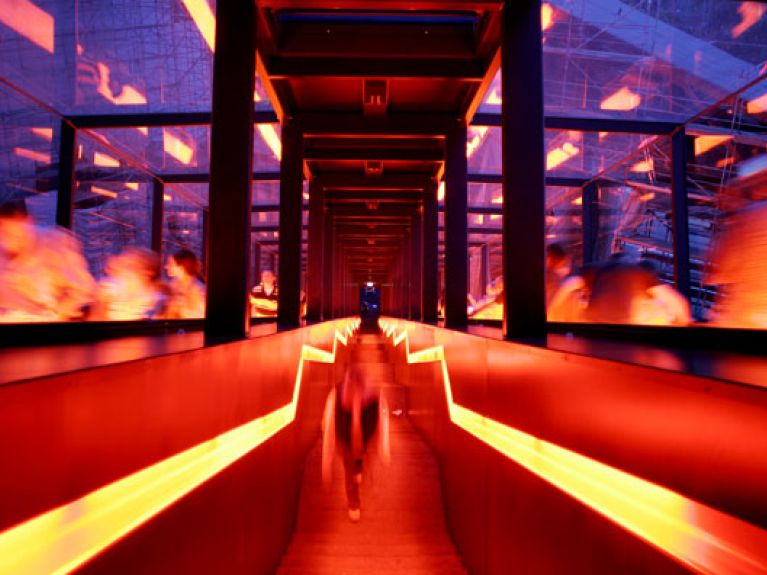 You have to imagine thick clouds of smoke and hammering noise, railway tracks weaving their way through a seemingly endless expanse. The Landschaftspark Duisburg Nord once embodied the idea of tough physical labour. This is where the industrialist August Thyssen had his huge ironworks built at the beginning of the 20th century. Millions of tons of iron were produced here until the complex closed in 1985. Nowadays, the old factory site is called a park, but this does not mean that the industrial past has been buried. Meanwhile, the old production plants have been transformed into venues for open-air concerts and film performances. There is also a climbing garden, and diving centre in the gasometer.
Do the relics of the industrial age possess any cultural value? Are they worth preserving? Are they interesting, or even possibly beautiful? Definitely yes, say the people of the Ruhr area, where many of the old collieries and coking plants have been filled with new life. The idea of industrial culture gave a new lease of life to the once so dynamic region that had to struggle hard after the mass production of coal and steel ended.
The 400-kilometre Industrial Heritage Trail
You can discover this unique landscape, for instance at the ExtraSchicht event and the Long Night of Industrial Heritage. Once a year, some 200,000 visitors drift from one industrial site to the next to experience music and dancing, light shows and readings inside the old production halls or against the night-time backdrop of the silhouetted winding towers. Apart from these special events, you can discover the classic Ruhr area at any time by car or cycle along a 400-kilometre route. The Industrial Heritage Trail connects miners' settlements, panorama viewing points and flagship examples of the coal and steel industry.
They include the Zollverein in Essen. It has been on the UNESCO World Heritage list since 2001. It is not the only world heritage site in Germany to be listed and especially protected because of its significant industrial past. The UNESCO World Heritage list also includes the Völklingen Ironworks in Saarland and the Rammelsberg Ore Colliery in the Harz Mountains. And although not honoured by UNESCO, there is a peninsula close to Dessau that is very popular with young people. It was once part of the lignite mining industry and is now called Ferropolis because of the huge remaining machines. Although there is no more mining here, the area has certainly not fallen silent: in July thousands of visitors will again gather in the "iron city" to celebrate the Melt Music Festival.
ExtraSchicht – Night of Industrial Heritage on 28 June 2014
Melt Music Festival from 18 to 20 July 2014
www.extraschicht.de

www.meltfestival.de

www.route-industriekultur.de

www.zollverein.de

www.voelklinger-huette.org

www.rammelsberg.de
© www.deutschland.de