Book Fair live
Migration, urbanity and the philosophy of communal life: Frankfurt Book Fair offers many opportunities for discussion and even more opportunities for discovery – voices and impressions.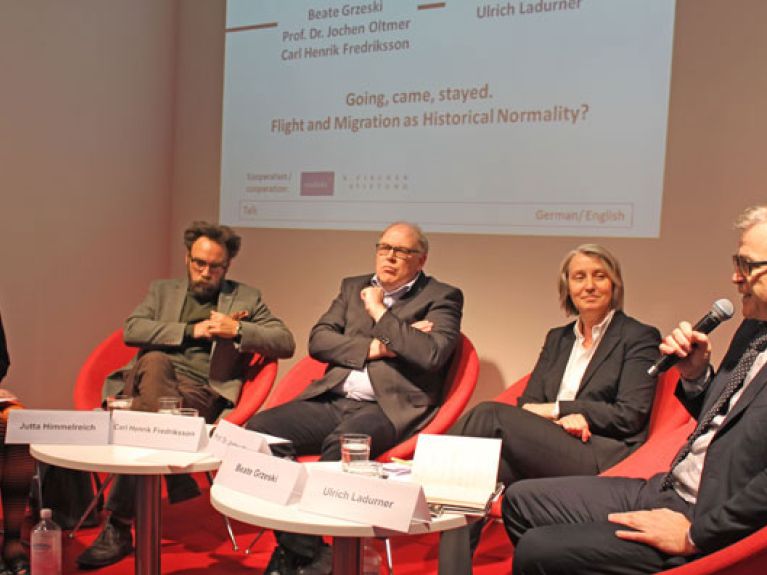 Mobility made of wax
How do people move in everyday urban life? This is visualised by the Moovel Lab using a 3D wax printer in Hall 4.1, "The Arts+". Liquid wax drips down onto a two by two metre large paper screen to depict route search enquiries from the moovel app, an piece of software that combines public transport, car-sharing services, taxis, bike rentals and Deutsche Bahn, the German rail network. The outcome is a fascinating artistic representation of a rather different Berlin street map.
***
Migration and normality
Are movements of refugees and migrants to Europe actually as extraordinary as they currently seem? This subject was discussed by Beate Grzeski, Head of the Coordination Unit for Refugees and Migration at the Federal Foreign Office, migration researcher Jochen Oltmer and Austrian-Swedish journalist Carl Henrik Fredriksson at the Weltempfang forum. The Federal Foreign Office has been participating in the Frankfurt Book Fair with this centre for politics, literature and translation since 2007. "There has always been migration," says Jochen Oltmer. "People move when they believe they have better chances somewhere else, or if they are forced to by violence or the threat of violence." According to Oltmer, however, the majority of people do not have the means to move, because "money, a vision and networks are required for that". Improving living conditions in the countries that people are leaving and better control of migration are important subjects of German foreign policy, emphasises Beate Grzeski. "Development cooperation cannot do this alone, but it is a contribution to the mosaic of measures." The Federal Foreign Office aims to contain illegal migration through diplomacy in the countries of origin and easier migration for students and specialists. "It is not in our interest to prevent migration; Europe needs immigration. However, we want to replace illegality with legality." The continent of Africa will be a major topic of the German Presidency of the G20 group, which the Federal Republic is assuming in December 2016. "In our opinion, Africa is not a continent of disasters, but a continent of opportunities," says Grzeski. If the living conditions there were improved, "people would see options there for the future".
***
Short stories from Lebanon
The up-and-coming young Lebanese authors Rola el Hussein and Ayham Hazoun presented their short stories "The Dress" and "The Capital City" in the Weltempfang forum. They were developed in the Beirut Short Stories project, a collaboration between the KfW Foundation, the Goethe-Institut and Litprom. The writer, journalist and translator Hussain Al-Mozany led the workshops, which he understood "as a ray of hope", as he put it. He encouraged the participants "to hide small stones in their texts to keep readers alert". After all, writing, according to Al-Mozany, "is elementary".
***
Tea and readings
There is a wonderful atmosphere inside the reading tent on the Agora open space at the Book Fair. Visitors are able to make themselves comfortable with a cup of tea in the separate niches and listen to the readings. And what did Dutch author Connie Palmen say during the presentation of her book "Jij zegt het" when she only found a used glass on the table? "It doesn't matter, I'll drink from it and if something happens to me, we will all know that it was a cunning murder attempt." After all, Palmen's new novel is also about death: US poet Sylvia Plath killed herself in 1963 – and Palmen writes from the perspective of Plath's husband, the poet Ted Hughes, who was left with a feeling of guilt.
***
Sweet art
Fancy some chocolate? The Belgian chocolatiers of Choco-Story are presenting their skills live at a chocolate counter in the Agora exhibition space. They melt chocolate, pour it into little moulds, place half a walnut on top – and Book Fair visitors can then try the delicacies. Impressive here is the chocolate art of Ter Groene Poorte, a gastronomy school in Bruges: they have transferred paintings by the Flemish masters onto chocolate.
***
Popular female author
This year's winner of the Peace Prize of the German Book Trade, Carolin Emcke, is very much in demand – whether on the Blue Sofa, on the ARD stage or at the booths of the daily Süddeutsche Zeitung or the weekly Die Zeit. Although the audiences are large, there is one thing Emcke won't tell in advance: the content of her Peace Prize address on 23 October 2016.
www.deutschland.de/en/topic/politics/germany-europe/effectively-combating-the-causes-of-migration
www.deutschland.de/en/topic/politics/development-dialogue/enabling-refugees-to-make-a-new-start
www.deutschland.de/de/topic/politik/frieden-sicherheit/fluechtlingen-einen-neustart-ermoeglichen