"In Berlin everyone fits in somehow"
Sarah Slik has not been in Germany very long. Read here why she already has the feeling of having come home.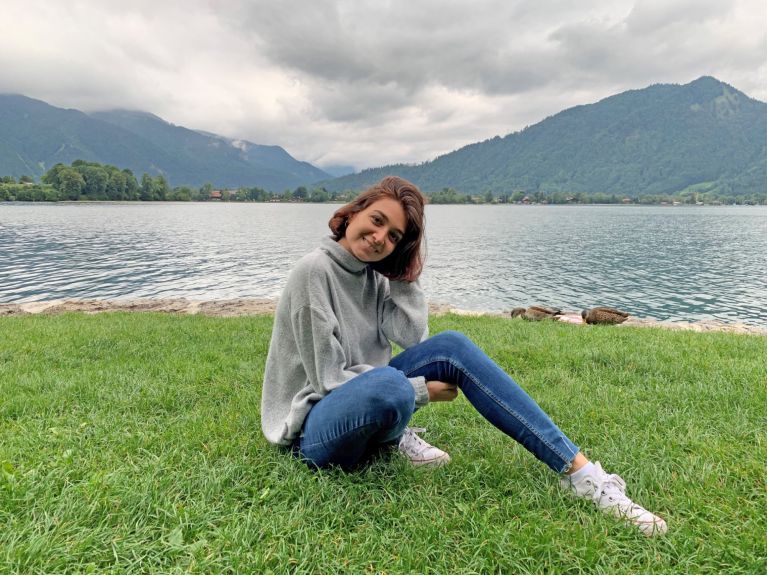 Sarah Slik has been around a lot in her life. The 24-year-old graphic designer was born in Abu Dhabi, moved to Canada when she was five, then lived in Syria, studied in Malaysia, worked in Japan and then relocated to Germany a few months ago because her husband accepted a job in Berlin. She talks about why she is already thinking of staying longer.
Sarah, what was your first day in Germany like?
My first day was my favourite day in Germany – so far! It was summer, pleasantly warm and the sun didn't set until 10 p.m. We spent the whole day walking around Berlin and it really amazed me how great I though the city was.
Do you already feel at home here?
I seldom feel at home anywhere. I can't say that about Germany yet, but I feel normal here, I'm not unduly noticed, I'm not an outsider. Berlin is incredibly international – everyone fits in here somehow.
What was the most difficult part of your move to Germany?
At the beginning it was overly stressful finding out what documents and papers you need. I would recommend others to research thoroughly, read articles, listen to podcasts and to swap ideas with users on the Facebook page.
What plans do you have for the immediate future?
I want to take the German language by storm (laughs). I've been doing an intensive language course for two months now and I want to concentrate on that. One reason is that having the language will help me find a good job. Compared with Japanese the German language seems really feasible.
Is there anything you have not yet succeeded in doing in Berlin?
I would like to have a few German friends. As an ex-pat you often have a very international environment but I would like to get in touch with the "locals". That said, the Germans I've met so far all seemed very open and friendly.
Do you already have a plan for what country you will go to next?
No, strangely enough we don't. Somehow, I get the feeling that we will stay in Germany for a very long time.
If you want to learn more about Sarah's experiences in Germany, you can listen to a podcast with her as a guest here.
You would like to receive regular information about Germany? Subscribe here: