Social start-ups work for integration
A support programme is transforming social enterprises into employment engines. They have already created over 400 jobs and traineeships for refugees.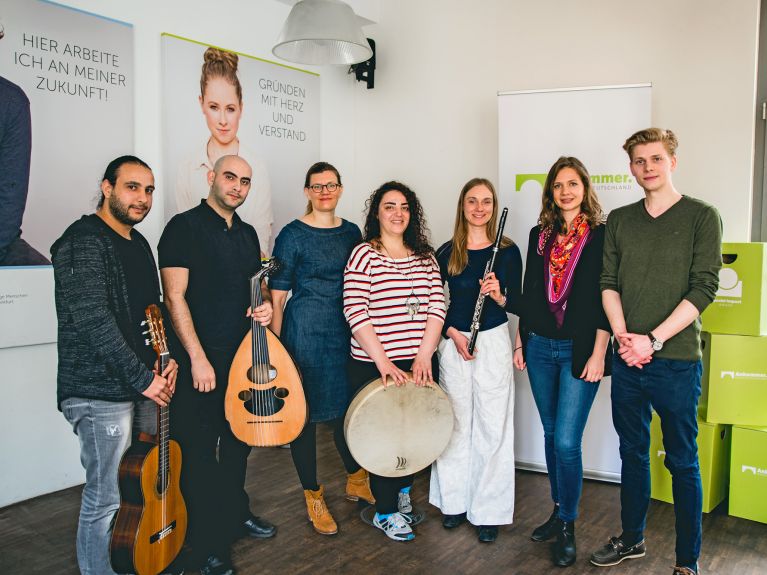 Germany. It remains one of the main questions of how to integrate refugees and migrants in Germany: what is the best way to incorporate them into the labour market? One of many possible answers here are social start-ups – businesses that combine entrepreneurship and social responsibility. That is why Ankommer.Perspektive Deutschland, a programme funded by KfW Stiftung and Social Impact, an agency for social innovation, supports start-ups of this kind. New teams have now been awarded funding for the third time.
How does the Ankommer programme support business founders?
It provides grants. However, these are seen less as direct financial support and much more as a means of providing expert assistance and advice. For a period of up to eight months the teams can take part in workshops at one of the Social Impact Labs in Germany, meet mentors, use office premises and network with other entrepreneurs.
Which kinds of founders receive support?
The most important condition is that their business idea must contribute to the skills development and employment of refugees and "strengthen social cohesion from the entrepreneurial perspective," says Bernd Siegfried, Executive Director of KfW Stiftung. The start-ups come from very different sectors, although it has emerged that the restaurant trade offers especially good opportunities for integration. Several founders also focus on education and language teaching. However, the new awardees also include a project called Bridges – Musik verbindet, which brings together refugee and non-refugee musicians.
How can that become the basis for a business?
"We organise paid performances and also make our musicians' services available as teachers, composers or sound engineers," says the project leader, Johanna-Leonore Dahlhoff. In her experience she has found: "The situation on the labour market is not easy for refugees, especially for free-lancers and above all for artists." Mustafa Kakour can confirm this. The Syrian, who studied music education and was a teacher in his home country, now plays the oud, a traditional Oriental instrument, in the Bridges orchestra. "I found my place in the project."
What impact have the supported initiatives had?
Of the 29 teams that have received support so far, 20 have actually gone on to found businesses, three are still at the preparatory stage and six have failed. "The business start-ups have already created 321 jobs and 89 traineeships," says Norbert Kunz, Executive Director of Social Impact. "The programme is extremely effective." 
Ankommer.Perspektive Deutschland