Rapid integration 
pays off
According to new research, the rapid integration of refugees into the labour market generates a long-term advantage for all.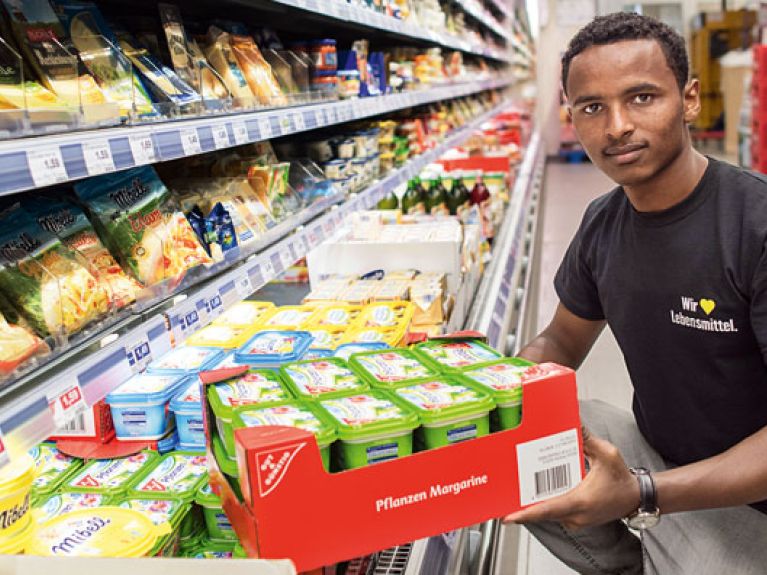 In September 2015, a moving story attracted people's attention in the refugee debate. Of all places, it was on the genteel North Sea island of Sylt that a refugee from Afghanistan received a place in a vocational training programme. After fleeing from the Taliban to Germany, he had ended up in a shared refugee apartment on Sylt. In order to make himself useful, he asked about a job in a hotel. Without further ado, Claas-Erik Johannsen, manager of the Benen-Diken-Hof, employed him as a temporary gardener – and was so impressed by the effort he put in that in late summer he offered him a contract as 
a trainee restaurant specialist. The decision has benefits for both sides. Johannsen, who otherwise has great problems finding staff and trainees, has a new highly motivated employee – and his hotel gained nationwide publicity. The comments on the hotel's Facebook page ranged from "I wish everyone would think and act like that" to "That's why we feel so much at home with you".
However, it is not always so easy to offer refugees training or work. A number of bureaucratic hurdles were only removed in autumn 2014. Since then it has been the case that refugees are not allowed to work during the first three months. After that, for one year, they are only allowed to carry out work for which no EU citizen can be found. They still regularly have to collect documents and residence permits, however, during the asylum process. It is only when an asylum application has been approved that refugees are allowed to work without any restrictions. And that can take a long time because of the large rush at the pres­ent time. In the face of the shortage of specialists, economists, entrepreneurs and interest groups in German industry are therefore calling for further adjustments in the right of asylum and immigration laws. In the meantime hundreds of campaign groups have formed in chambers of industry and commerce, chambers of crafts and the SME sector, because they need not only people, but also political help.
For leading economist Marcel Fratzscher, political consultant and president of the German Institute for Economic Research (DIW Berlin), the crucial question in the refugee debate is how well and fast people can enter the labour market. "Successful integration depends not only on the refugees, but primarily on us ourselves and the efforts we make to give these 
people a chance," says Fratzscher. "We must regard spending on refugees who will remain in Germany as an investment, in the same way that expenditures on our children's daycare centres and schools are investments that only pay off after many years."
Not everyone thinks so farsightedly. The scenarios in the current debate range from "mass unemployment" to "the opportunity of the century". Fratzscher sees the matter soberly – and optimistically. He is one of the first to have calculated various scenarios with his DIW team. The result: "Yes, in the short term the influx of refugees constitutes an enormous financial and organisational challenge," says Fratzscher. Never­theless: "Even in the most pessimistic scenario we considered, the per capita income of people already living in Germany will rise after ten years," says his colleague Simon Junker, deputy head of the Forecasting and Economic Policy Department at DIW. "In a more favourable case, a positive impact will be felt sooner, possibly after only four to five years."
Herbert Brücker of the Institute of Employment Research (IAB) can empirically prove that anxieties and fears that refugees will take jobs away from Germans or other EU citizens are unfounded. "In the last five years we have created one million new jobs for foreigners," he says. At the same time, the rate of employment among Germans has risen without any decline in wage levels.
According to details published by the Federal Employment Ministry, 67,900 migrants found a job in Germany between October 2014 and September 2015. An above-average share found jobs in the construction trade, in service industries and in the warehouse sector, therefore in the lower segment of the labour market. That does not have to be the only option, however. On the contrary, so-called early intervention programmes organised by the Federal Employment Agency and the Federal Office for Migration and Refu­gees (BAMF) have been launched in many large cities. They aim to recognise refugees' potential early on to offer them targeted support and subsequently place them in skilled jobs, which usually also require good knowledge of German, or study programmes. The first experience has been very positive. The project leaders unanimously agree that most refugees have skills, are willing to work, want to build a new life and are highly motivated. ▪