100 Ideas for peace
Preserve peace – by not forgetting wars – 100 years after the First World War young people are shaping a vibrant culture of remembrance.
Klaus Lüber / 16.11.2018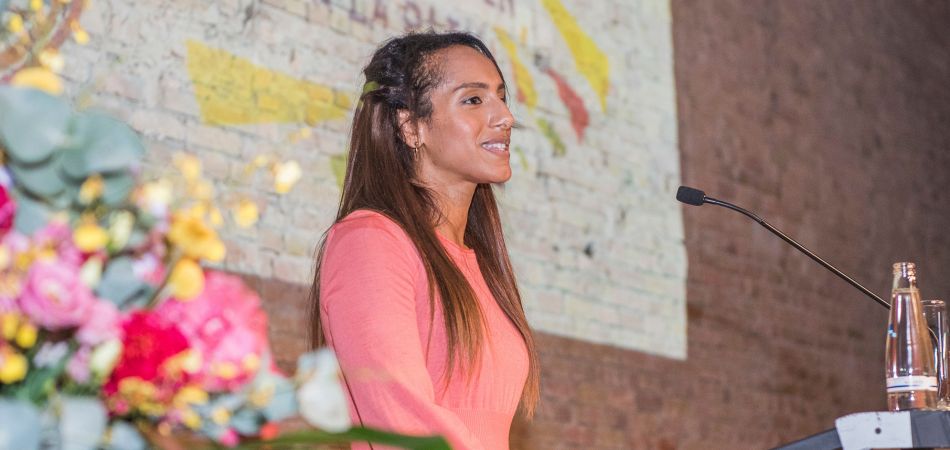 Young French woman Lea lives with her family in a small village close to Verdun, only one kilometre from the First World War battlefield of the same name. Although she lives in times of peace, war is forever present in her life, inscribed in the jagged countryside left behind by the fighting that raged here. Taras from Ukraine for many years only knew war as something in history books – today he experiences it in very real form right outside his front door. For young Russian woman Dasha, war is an all-consuming black, like the black in the famous "Black Square" painted by Kasimir Malevich.
The young generation is keeping memories alive
On 14 November, the "Youth for Peace – 100 Years Since the End of the First World War, 100 Ideas for Peace" project kicked off in Berlin with the stories of Lea, Taras and Dasha in an introductory video installation. The Franco-German Youth Office (FGYO) invited 500 young people aged between 15 and 22 years old from 48 different countries to attend a workshop and develop ideas on a culture of remembrance and peace work.
As it was almost 800 young people flocked to the Bolle Festival Halls in Moabit, as the participants of the EUSTORY Event hosted by the Körber Foundation, which took place at the same time, joined in. EUSTORY is a network of over 20 national school student history competitions organised by civil society in Europe. Once a year, the 16 to 25-year-old prize winners are invited to a meet in Berlin.
An open approach to your own history is the precondition for a functioning democracy.
Thomas Paulsen, Member of the Board of the Körber Foundation
"How can we preserve peace in Europe?"
"How can we preserve peace in and around Europe and how can we restore it in places where it no longer exists?" This was how in his opening speech Andreas Michaelis, State Secretary in the German Federal Foreign Office, formulated the two key issues for the projects to address. He called on the young people to make use of the opportunity to exchange ideas and to perceive how diverse the culture of remembrance continues to be. "1918 is a cypher which every single person in this room understands differently." Béatrice Angrand, General Secretary of the Franco-German Youth Office (FGYO), feels it is specifically the multi-perspectival approach that makes the "Youth for Peace" programme so special – and so valuable as regards the current challenges Europe faces.
Remembering along does not suffice, emphasised Thomas Paulsen, member of the Board of the Körber Foundation. A look back must also always be bound to a constructive focus on the future. Moreover, a sensitivity to the historical narratives is also invaluable because it is a good yardstick of how open and liberal a society is at core, he continued. He went on to say that "an open approach to your own history is the precondition for a functioning democracy." Daniela Schily, General Secretary of Volksbund Deutsche Kriegsgräberfürsorge, added: "Memory is an instrument for shaping the face of the future." Her organization is one of the partners supporting "Youth for Peace".
Why a shared culture of remembrance is difficult
Just how strong the power of historical narratives remains, how they arise and how they can best be addressed was the topic of a panel discussion. British journalist Afua Hirsch introduced it with her keynote, stating: "We should always make sure we are aware that narratives, especially those that centre on the identity of nations, are merely constructs." Hirsch emphasised that it is society's task to cast such narratives into question.
A commentary by former French Prime Minister Jean-Marc Ayrault nurtured hope. He pointed to the reconciliation of Germany and France, once enemies who went to war against each other, as an example of a positive trend, for all the historical differences. Those differences, or so historian Sönke Neitzel form the University of Potsdam pointed out, do not have to be overcome at all cost. "Even if we do not perhaps succeed in establishing a shared European culture of remembrance, a lot would be gained if we simply managed to imagine ourselves in the others' narratives."
And the participants in "Youth for Peace" have many such opportunities. A selection of their presentations will be on show at the closing event on 18 November – in the presence of German Federal President Frank-Walter Steinmeier and French President Emmanuel Macron.