A historic treaty of friendship
Germany and France signed the Élysée Treaty 60 years ago; to this day, the agreement shapes relations between the two neighbouring countries.
In January 2023, Germany and France celebrated the signing of the Élysée Treaty 60 years ago. We present an overview of this groundbreaking treaty, its unique importance and its consequences.
Why is the Élysée Treaty considered to be historic?
The Second World War had only ended just under 18 years previously when Germany's then Federal Chancellor Konrad Adenauer and French President Charles de Gaulle signed the treaty on Franco-German cooperation in the Élysée Palace in Paris on 22 January 1963. The agreement went down in history because it symbolizes the reconciliation and friendship between the two neighbouring countries.
Specifically, the treaty provided for close coordination between the two governments on foreign policy matters. It also stipulated that regular meetings of ministers and of heads of state and government should take place. Furthermore, just a few weeks later the treaty led to the establishment of the Franco-German Youth Office (FGYO). Since 1963, nearly ten million young people have taken part in more than 380,000 exchange programmes.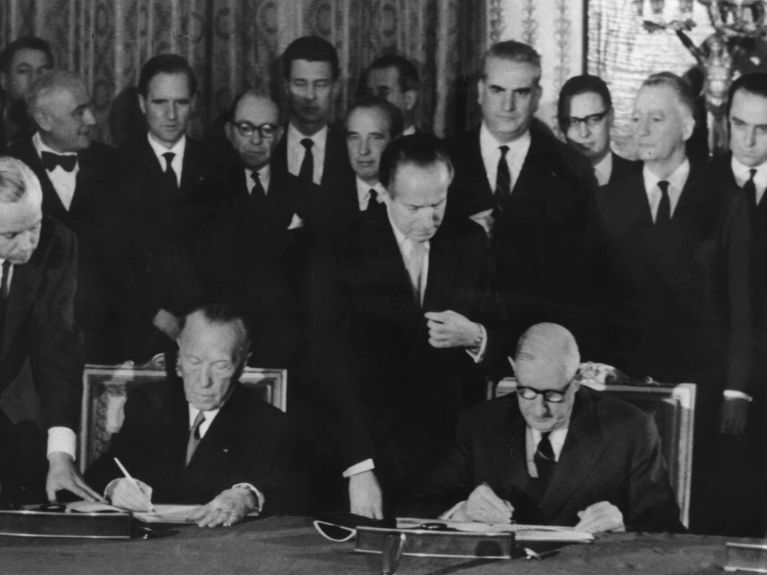 How has the Élysée Treaty shaped Franco-German relations since 1963?
Not only is the treaty a historic milestone; over the past 60 years, it has repeatedly formed the basis for other trailblazing agreements. To mark its 40th anniversary in 2003, then French President Jacques Chirac and former German Chancellor Gerhard Schröder initiated Franco-German Day, the primary aim of which is to introduce young people from both countries to the neighbouring country and its culture.
On 22 January 2019 – 56 years after the signing of the Élysée Treaty – Germany's former Federal Chancellor Angela Merkel and France's President Emmanuel Macron signed the "Treaty on Franco-German Cooperation and Integration," known as the Treaty of Aachen, at Aachen town hall. The agreement is aimed at further deepening the cooperation between Germany and France – among other things in European policy.
How close is the relationship between Germany and France today?
Germany and France are still seen as the driving force behind the European Union, and the governments of both countries work together on key foreign policy issues. It was clear following the Bundestag elections in 2021 how important France is to Germany: for both Federal Chancellor Olaf Scholz and Foreign Minister Annalena Baerbock, the first trips abroad after their election were to the French capital Paris.