For sustainable networking
How Germany's EU Council Presidency is driving Europe's digitalization forward and which digital strategies will help Europe out of the crisis. Three questions, three answers.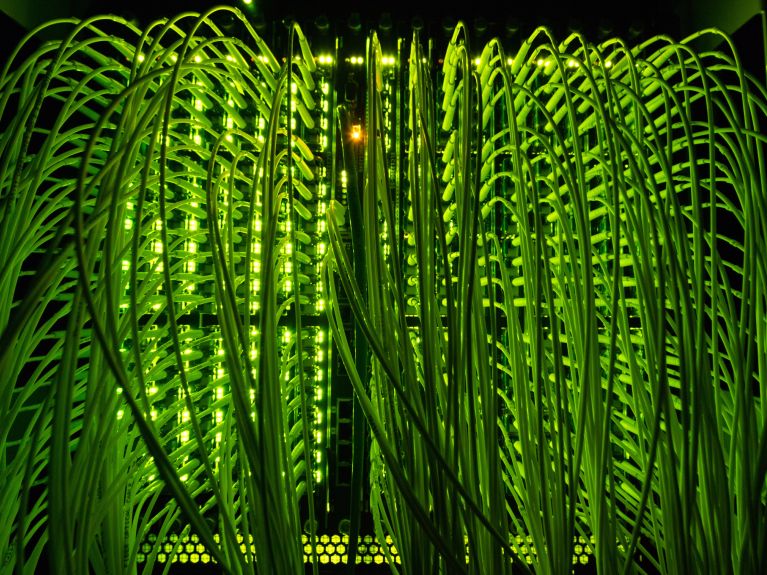 Why is digitalization an important topic of Germany's presidency of the EU Council?
"We want to advance the digitalization of the economy and society". This was the goal formulated by Germany's Chancellor Angela Merkel at the launch of the German EU Council Presidency, whose programme focuses on "digital sovereignty as the leitmotif of European digital policy". One aim is that fields of innovation such as artificial intelligence (AI) and quantum technology will "increase our prosperity, protect our security, and preserve our values in fair competition". With regard to data protection among other things, the Federal Government's AI strategy, which was adopted at the end of 2018, already stated that "Europe must not only demonstrate its technological performance and exploit its market strength, but also go on the offensive in promoting its values in order to help shape international rules and set standards in the EU."
What does digitalization mean in view of the corona pandemic?
Travel restrictions and distancing requirements have highlighted the value of digital networking. In order to make room for this networking in a sustainable and secure way, Germany and France, together with other European partners, have made proposals for the GAIA-X data infrastructure. In a European digital ecosystem, data and services should be made collectively available, aggregated and shared on the basis of trust.
How can the current economic crisis be overcome digitally?
The programme of Germany's EU Council Presidency emphasizes: "A well-functioning internal market, also in the digital field, is an important prerequisite for the EU's competitiveness and its economic recovery after the corona crisis." And it is about more than fast networking: better rules on liability and security are being sought for digital marketplaces and services. Consumer protection is just as important for Germany as demands on the energy efficiency and resource inputs of digital technologies – to ensure that digital change can also be made sustainable in the economy.
You would like to receive regular information about Germany? Subscribe here: