The big difference
Five steps in the right direction - the Women Mobilize Women initiative works for gender-equitable mobility worldwide.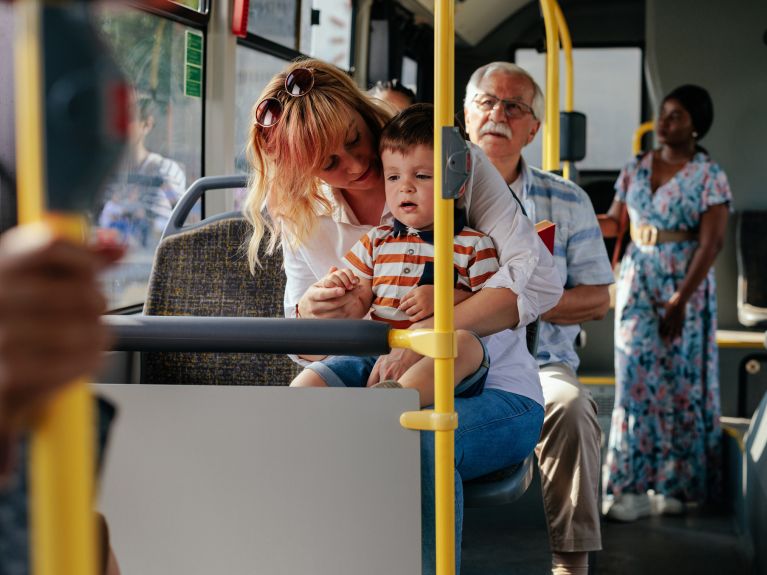 A bus ride is the same for everyone? It makes a considerable difference whether you are travelling alone or with small children, but this is rarely thought about. The Women Mobilize Women initiative champions gender-equal mobility worldwide. It was launched in May 2018 by the Transformative Urban Mobility Initiative (TUMI) together with the German Federal Ministry for Economic Cooperation and Development and the German Society for International Cooperation (GIZ). Today WMW is a network of women decision-makers from all over the world who want to shape the mobility sector in a gender-equitable way. To this end, Women Mobilize Women has defined five key steps.
1. Research and understand female mobility. One basis is to work out the respective, often country-specific, differences from male mobility.
2. Develop inclusive mobility offers. Gender-equitable mobility is always a question of perspective. For example, the distance from the home to a bus stop has a fundamentally different meaning for a person on the way to work than for someone who has to walk it several times a day, loaded down with children and shopping. The importance of clean toilets and baby-changing facilities at public transport hubs also varies according to gender.
3. Ensure women's safety on public transport. This includes not only clear and well-lit stops and streets, attentive staff and security, but also the establishment of on-demand stops at off-peak times to avoid longer walks for women. Most important of all, however, is the social outlawing of sexual harassment and its criminal prosecution.
4. Empower women in the transport sector. Gender-equitable transport requires equitable employment and pay and balanced staffing in all areas of work. Exemplary conduct on the part of all transport workers is also important.
5. Raising awareness and attention. Gender-equitable signs is an important step, but only public campaigns and education in schools can bring about awareness of gender-equitable behaviour.
You would like to receive regular information about Germany? Subscribe here: