Forward-looking projects and emergency aid
In Germany, countless NGOs are committed to fighting hunger in the world. Here you can get to know three of the most important ones.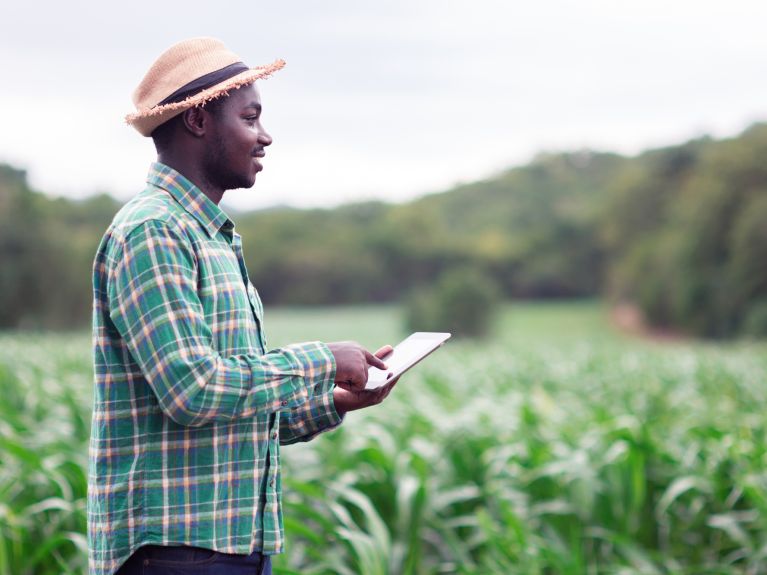 Deutsche Welthungerhilfe (German Agro Action)
Since when?      Founded in 1962, renamed Welthungerhilfe in 1967
What does it do?             Welthungerhilfe provides emergency aid and supports projects
Funding:             69.9 million euros in donations, 213.2 million euros from institutional donors (2020)
Support:              539 projects in 35 countries, support for 14.3 million people
Example:             The Agrishare app has been around since 2019, first in Zimbabwe, now also in Uganda. It helps smallholder farmers share their means of production, e.g. tractors or maize-shelling machines. The platform not only arranges services and equipment, it organizes appointments and serves as a trustee when it comes to payment.
Brot für die Welt (Bread for the World)
Since when?      Founded on 12 December 1959 in response to a famine in India. The organization explicitly does not engage in missionary work.
What does it do?             Emergency aid and 669 projects around the world promoting food security (2020)
Funding:             76.8 million euros in donations and collections, 59.7 million euros from church development services, 168.6 million euros in Federal Government funds (2020).
Example:             In Sertão, in Brazil's arid north-east, there is practically no rain at all for eight months of the year. The organization Diaconia builds cisterns for small farmers there and shows them how to transform the barren earth into good farmland through organic farming and respect for the water cycle. The project has been so successful that the state has now taken it over on a large scale.
Caritas international
Since when?      First active 100 years ago in response to a famine in the then Soviet Union in 1921
What does it do?             Nearly 700 projects in 74 countries: emergency aid for refugees, healthcare and food security
Funding: 40 million euros in donations, 8 million euros from the Catholic Church, 47 million euros from institutional donors (2020)
Example:             Years of drought have left the people of northern Kenya in dire straits. Together with the partner organization PACIDA, Caritas is supporting more than 10,000 people in the Marsabit district. In times of acute need, help is provided in the form of food and water supplies. In addition, projects for water collection, water storage and animal husbandry, as well as conflict prevention, aim to improve the situation in the longer term.
You would like to receive regular information about Germany? Subscribe here: