"The challenge of our time"
Why is the past so important for young people? Lucas from Brazil talks about his experiences in Germany.
Report: Sarah Kanning / 06.11.2020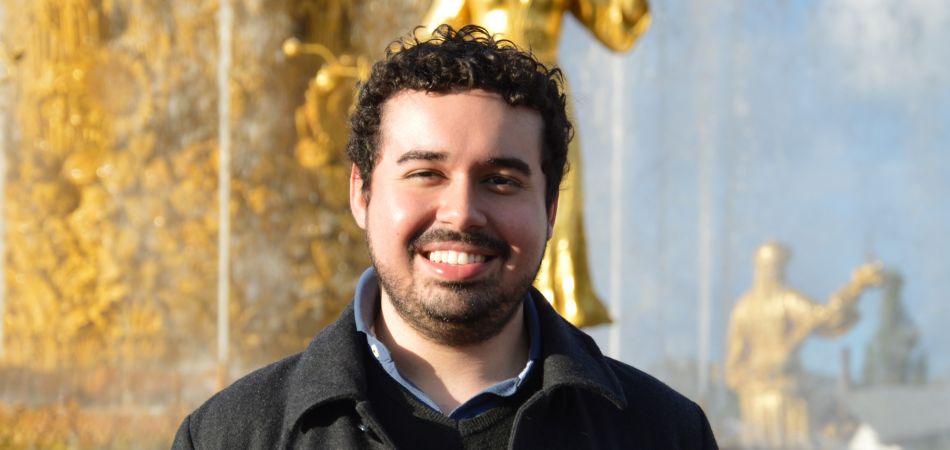 "I came to Germany mainly because the universities have such a good reputation. I registered at the Goethe University in Frankfurt am Main. But I quickly realized that Germany is far more than simply a great place to study. I gradually learned more and more about the country and the people, and I discovered historical sites or places that once played a role in the past. In the metro station on my way to the university there's a huge photo wall dedicated to the memory of Anne Frank. She lived in that quarter as a young child, before her parents were forced to flee from the Nazis with their two daughters. I read about Anne Frank's childhood and immersed myself in her story whilst other people simply hurried past. But for me, this kind of remembrance culture was new.
In Brazil, World War II is just a chapter in the schoolbooks. It has no emotional significance for us. In Germany it became clear to me that World War II and the Holocaust really did happen, here is the place, and these are the stories. I can look at the buildings and touch them. I see the relics. History is part of the collective memory. It hasn't vanished, it breathes. It's not just words printed in a book. Instead, I can experience it emotionally.
If we forget the past, there's a risk that history will be repeated.
Lucas from Brazil
Then, everywhere in the city, I discover Stumbling Stones. Each one is placed in memory of a person who the National Socialists deported and almost always killed. It's incredibly important to keep these memories alive. If we forget the past, there's a risk that history will be repeated. My country is trying to suppress its history, even though colonialism and slavery still influence our society today. Slavery wasn't abolished in the country until 60 years after Brazilian independence, and there are hardly any museums that deal with the topic.
I can understand when young people are unwilling to concern themselves with themes from the past. They have been born into a 'new' country, and they haven't experienced war. Connecting with them and conveying the value of history to them, that's the most important challenge of our time."
Lucas Gualberto do Nascimento from Brazil studied in Frankfurt am Main in 2018. At the moment he is in São Paulo completing a master's degree in social sciences with a focus on international relations and development.
You would like to receive regular information about Germany? Subscribe here: