"Their courage gives me hope"
She is impressed by the women in Iran, says Human Rights Commissioner Luise Amtsberg. State repression is on the rise in many regions, however.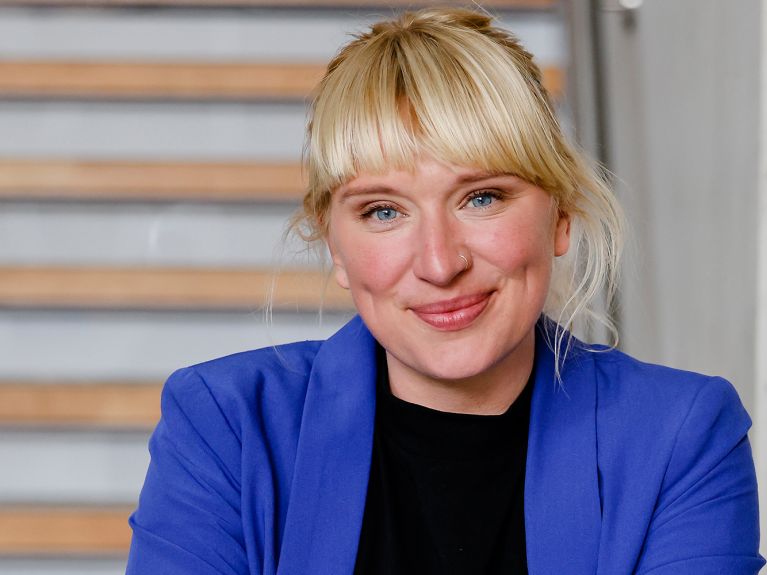 All human beings are born free and equal in dignity and rights – that is the ideal stated in the Universal Declaration of Human Rights. But what is the reality, one year before the 75th anniversary of the Declaration's adoption in 1948? Luise Amtsberg, the Federal Government Commissioner for Human Rights Policy and Humanitarian Assistance at Germany's Federal Foreign Office.
Ms Amtsberg, what is your assessment of how the human rights situation is developing worldwide?
We have to face the fact that the situation as regards human rights has deteriorated in many regions: state repression is on the rise and free spaces for civil society are shrinking. At the same time, there are many defenders of human rights who do not allow themselves to be intimidated by state violence, imprisonment or defamation. The women of the protest movement in Iran, who this year are also to be awarded the Franco-German Prize for Human Rights and the Rule of Law[CC1] , are an impressive example of this. The courage of these people gives me hope.
The war in Ukraine, the protests in Iran and the Football World Cup in Qatar are currently shining the spotlight on the issue of human rights. Does this present an opportunity?
If it means that human rights are more widely discussed in the public sphere, I think that's generally a positive development. It is a good thing, and important, for people not to feel indifferent about the conditions under which the stadiums were built for the World Cup. The challenge for us as the German government is to respond to this development – by giving even higher priority to human rights in our foreign policy, but also by making it clear where we too have our limitations: for example, it is a fact that sanctions cannot be imposed on Iran from one day to the next because they require European agreement and legal certainty.
What is Germany currently focusing on in its activities to protect human rights?
The international system is under growing pressure: the world is becoming split into countries that respect international law and those that seek to undermine it. Germany is committed internationally to maintaining and expanding the rules of international law and human rights. The Federal Government's feminist foreign policy, with which we acknowledge that access to political participation is unequally distributed and with which we wish to eliminate these power structures, is closely linked to the protection of human rights. Another focus is on protecting human rights defenders worldwide, including with the aid of the German government's protection programmes. We should use the 25th anniversary of the UN Declaration on Human Rights Defenders in 2023 to honour the work that these people do and to give them greater support.
Who are your most important partners in this context?
As far as I am concerned, the most important partners in the fight for human rights are civil society representatives, from individuals and local groups to internationally active non-governmental organisations. Our actions must be guided by their experiences and expertise. Representatives from the Global South in particular are listened to far too little. My role is to serve as a bridge between them and the Federal Government. 
Violence against women and girls is one of the most common violations of human rights worldwide. What can be done to counter this?
Violence against women and children and sexualised violence are the gruesome symptoms of patriarchal power structures. To eliminate this perfidious form of violence, we must tackle the underlying power structures. This includes holding those responsible to account – also in an international context. Within the mechanism to investigate human rights violations in the Russian war of aggression against Ukraine for example, one particular focus is on gender-specific violence – though unfortunately this is not yet done as a matter of course. Even in Germany, however, one in three women experiences physical and/or sexualised violence at least once during their lives. For me as human rights commissioner it is important that any commitment to human rights in the world must always go hand in hand with a self-critical assessment of the situation at home.