A skateboard for human rights
German organisations are committed to defending human rights worldwide. Let us introduce you to three of them.
Kim Berg / 04.12.2020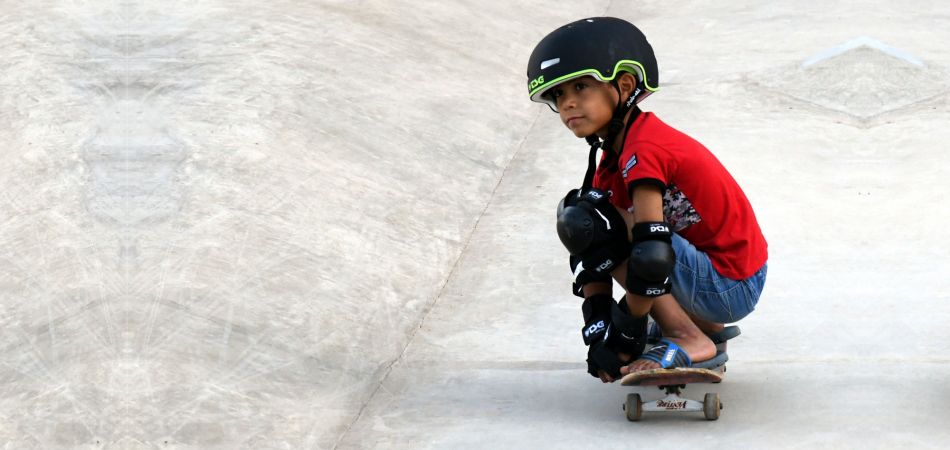 The Green Button
Environmentally friendly, sustainable and fair: these are the criteria that companies have to meet to obtain the "Green Button" textile certification mark. The certificate was established in Germany by the Federal Ministry for Economic Cooperation and Development in 2019. Just a year later, over 50 companies are already offering "Green Button" products. They sold around 50 million textiles featuring the certification mark in the first half of 2020. This requires them to meet exacting standards: the company itself must provide evidence, on the basis of 20 criteria, that it meets its social and ecological responsibilities, as well as its duty to uphold human rights. Individual products must fulfil a total of 26 social and ecological criteria, including rules governing waste water limits and compliance with the ban on forced labour.
Pro Asyl
Worldwide, 60 million people are fleeing war, conflict and persecution. The German human rights organisation Pro Asyl wants to help them. In 1986, members of refugee councils, churches, unions, welfare and human rights organisations established Pro Asyl with a view to countering reservations about refugees in Germany. Ever since, members of Pro Asyl have accompanied refugees throughout the asylum process all the way to (inter)national courts, they have researched and filed legal proceedings against human rights violations, and they have fought for an open society that offers protection for refugees.
skate-aid
Titus Dittmann is regarded as the father of the German skateboarding scene, which he has influenced considerably since the 1980s. The founder of a company that sells skateboards and accessories, he launched the non-profit organisation skate-aid international e.V. in 2009. In cooperation with aid organisations such as the SOS Children's Villages or local partners, skate-aid builds skateparks in countries including Uganda, Namibia, the Palestinian territories, Afghanistan and Nepal. The idea is that skateboarding helps children become more independent and gives them a greater sense of community. The mission it has set itself: to make children strong!
You would like to receive regular information about Germany? Subscribe here: