"Helping others makes you feel strong"
Anas Alakkad fled from Syria to Germany in 2015 and now, together with other Syrians, is helping refugees from Ukraine.
Nina Jerzy / 12.05.2022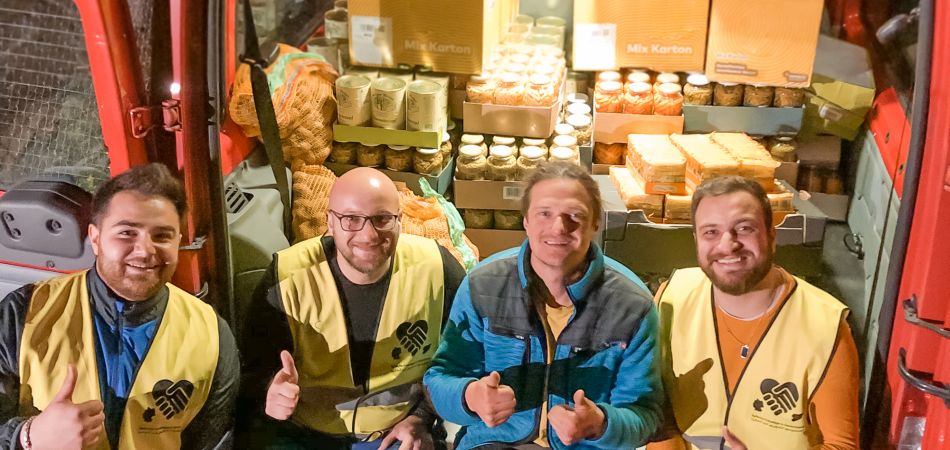 In the summer of 2021, Anas Alakkad – who had fled from Syria to Germany – teamed up with other Syrians to establish a group of volunteers: their aim was to help people in the Ahr valley in the state of Rhineland Palatinate following the devastating floods there. The activities of the "Syrian Volunteers in Germany", as the group calls itself, attracted attention worldwide, media such as the UK newspaper "The Guardian" and the Arabic TV station Al Jazeera reporting on their work. Today, Alakkad and many other Syrians are active not only in the Ahr valley; they are also helping the victims of the war in Ukraine. Their Facebook group now has more than 6,000 members. Alakkad, who is studying social entrepreneurship after completing a degree in medicine, wants the project to provide concrete help while giving people hope at the same time.
Mr Alakkad, what was your life like before you fled to Germany?
I had moved from Damascus to Lebanon in 2010 to study medicine. Four years later I went to continue my studies in Egypt, where my sister and an aunt were already living. That's where I began learning German. Because I was unable to return to Syria because of the war, I fled via Turkey, Greece and Austria to Germany in September 2015. I first went to Hamburg and then to the state of Saarland.
What kind of welcome did you receive in Germany?
A very good one. Together with my friend Faris Allahham, with whom I set up the "Syrian Volunteers in Germany" group, I was taken in by the family of a volunteer helper. We were given the children's bedrooms there. I was able to live with them for a year and a half, while Faris stayed four years. This meant that we were able to get to know Germany with a large German family. What is more, after two months I was employed as a translator in a reception centre for underage refugees. Finally, I decided to go back into medicine. After doing a paramedic course, I spent two years working for the German Red Cross.
How did you end up helping out in the Ahr valley following the disastrous flooding in the summer of 2021?
Someone I only knew on Facebook at the time had suggested in a post that the many Syrians in Germany could help out after the flood disaster. Faris and I had already set up a big Facebook page for our PontemPro.com start-up that supports Arabic speakers wanting to train as paramedics. Initially, all we really wanted to do with the "Syrian Volunteers in Germany" Facebook group was provide information, so we were surprised ourselves by its success. We had something like 100 members on the first day, and as many as 1,500 after just three days.
And lots of people wanted not only information, but also to help.
Yes, many were happy to have the opportunity for the first time to do something. Many refugees find it difficult to join a club or association and do voluntary work. But with us it was straightforward. Helpers were simply given an address where they could report for duty, get equipment and spend the night.
How exactly did you help people in the Ahr valley?
During the first four weeks the main challenge was to get rid of all the mud in basements and homes. We then worked on building sites, tearing up floors and repairing walls. That was a big help for the people whose homes had been damaged. There was a great shortage of construction firms in the Ahr valley. Help is still being provided to this day, and we are now doing a lot of work in gardens. We simply do anything people need us to do.
And today you are also helping people from Ukraine?
We had already talked in our group about other areas in which we could become active in future. In October 2021, however, I first headed off to do a semester abroad as part of my bachelor's degree in social entrepreneurship, which I did at the University of Katowice in Poland. Many of the students from Katowice are now among our most active volunteers.
What does the voluntary engagement mean for you and your fellow helpers from Syria?
The mere fact of volunteering is the key: helping others makes you feel strong. In the past, Germans helped me, and now we are able to do something. We also understand the fears that people are experiencing just now. This presented a unique opportunity for refugees to devote their time to helping other refugees. At the same time, we are supporting not only Germany and giving something back, but the whole of Europe.
In the past, Germans helped me, and now we are able to do something. We also understand the fears that people are experiencing just now.
Anas Alakkad
Do you already regard Germany as your home, or would you like to return to Syria one day?
I would perhaps go back for a visit – if that is in fact ever possible. But I still have big plans in Germany and Europe. I will be getting my bachelor's degree in social entrepreneurship in August 2022 and am then planning to follow it up with a master's in international relations or artificial intelligence. I would really like to work for a non-governmental organisation or the United Nations.
And what's the next step for the "Syrian Volunteers in Germany"?
We would like to establish a non-profit company. But we will need support because it's relatively expensive. It would also be nice to have a big headquarters for our team where we could store everything. Ideally, this would be situated close to the Ahr valley, where we still expect to be working for years. They need us there.