"These issues have accompanied me all my life"
Immigration as a responsibility of government – Integration Commissioner Reem Alabali-Radovan discusses challenges and experiences.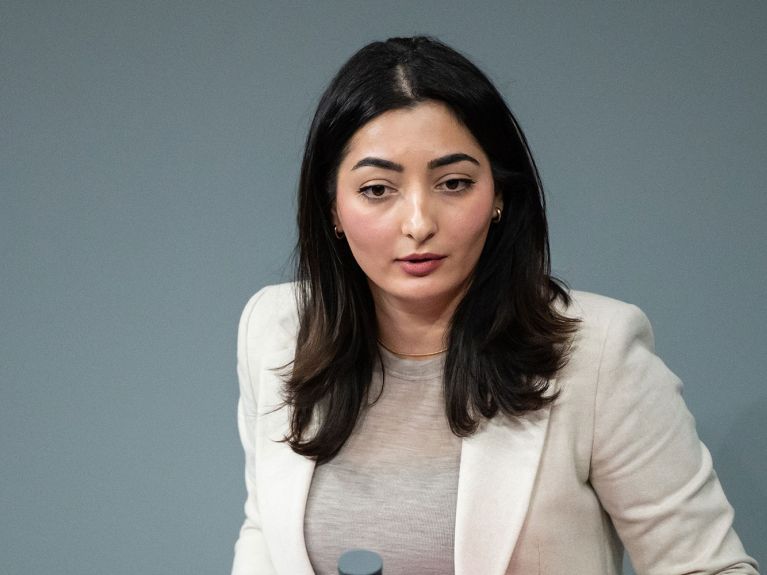 Reem Alabali-Radovan has been Integration Commissioner of the Federal Government since the end of 2021. Her parents initially fled to Russia from Iraq, where they had been victims of political persecution. They then came to Germany in 1996, when Reem Alabali-Radovan, who was born in Moscow, was six years old.
Ms Alabali-Radovan, does your personal experience help you in your work?
The issues associated with my office have accompanied me all my life – both privately and professionally. As a result, I can contribute my own perspective on these questions. I understand not only the viewpoint of someone who arrives here, but also German policy. I know very well what challenges we have in Germany and what we still need to improve.
Where does Germany still have to make up lost ground in integration policy?
We need to catch up above all in relation to diversity in public service. That's a topic which is very important to me. We must ensure that the diversity of our society is reflected in all areas of life –whether in the security forces or in politics. It's a topic I will focus on intensely during my term of office.
Another very important point is the fight against racism, anti-Semitism, hate and harassment. In conversations with migrants it constantly becomes clear that everyday racism has now become a permanent issue. We still need to make social cohesion very much stronger.
How important is it for Germany to attract skilled personnel from abroad?
We have a very profound labour shortage, which is becoming increasingly evident, above all in rural areas. According to the Federal Employment Agency, we need the annual immigration of roughly 400,000 people to overcome the labour shortage. There is a lack of workers in Germany above all in the medical sector, in care and in construction.
What role do immigrants play in business startups?
One in five entrepreneurs in Germany has a family history of immigration. This shows that people with a migrant background are also making a great contribution to startups in Germany. We should strengthen these efforts because Germany naturally also wants to be attractive in the competition for the most innovative and best brains.
You would like to receive regular information about Germany? Subscribe here: