Difficult new start
In 2015 hundreds of thousands of refugees came to Germany. How well are they integrated in the labour market now? An overview.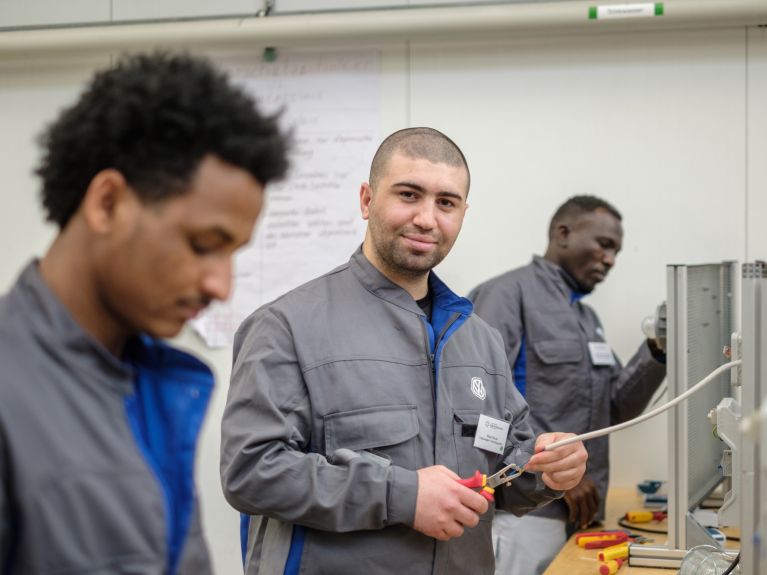 How many refugees are now employed?
About 36 per cent of the refugees who came to Germany between 2013 and 2016 now have a job. This is the result of a survey by the DIW Berlin (German Institute for Economic Research). "Every fourth employed person is in a full or part-time job, and six per cent are still training," says Felicitas Schikora, research assistant on the DIW's Socio-Economic Panel (SOEP). The remainder are marginally employed, working as an intern or pursuing further training. "On the other hand, the fact that 64 per cent are not employed may sound a lot at first," says Ms Schikora. But she adds that the trend is very clear: More and more refugees are finding work.
Which barriers hamper integration in the labour market?
"It's a process that takes time," says Felicitas Schikora. She explains that refugees often arrive in Germany unprepared. They usually have little or no knowledge of the German language. Apart from that, it often takes a long time for their original qualifications to be fully recognized or partially credited. But sometimes even this is not possible.
In which sectors are the refugees working?
The DIW survey showed that 51 per cent of the refugees no longer work in the trade or profession for which they qualified in their country of origin. In Germany the majority of the refugees work in production, gastronomy, transport and logistics or health and social care.
How can refugees be successful in the labour market?
Ms Schikora says the most important thing is education. In addition to this the refugees need to be informed early and comprehensively about how the German labour market functions. And offers designed to prepare people for the labour market must be suitable for the person in question. For instance, a single woman with children needs an offer that is combined with childcare options.
You would like to receive regular information about Germany? Subscribe here: