First refuge
Support for Ukraine has many facets: In Frankfurt a company has rented a hotel for refugees. We visited it.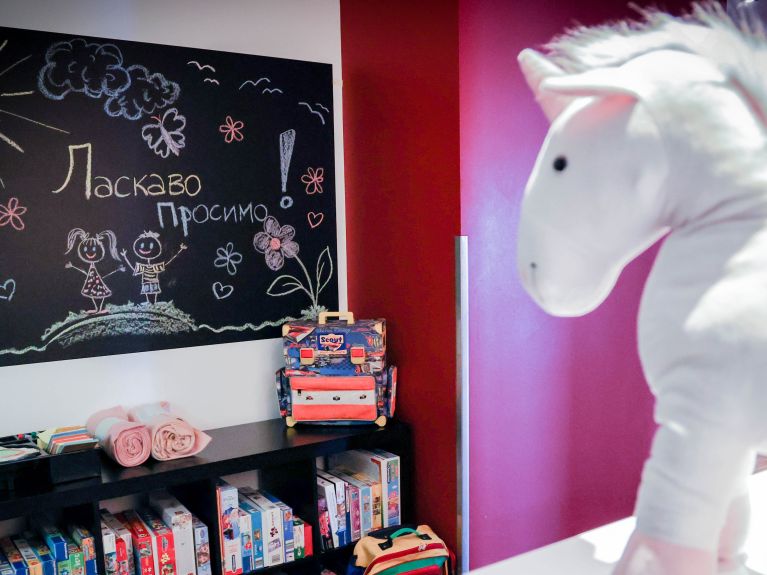 Juliia Suleymanova and her two children have spent days fleeing from Ukraine. They waited for many hours in Dnipro for a train to the West, and finally managed to squeeze into a carriage. There was no room for luggage: "We threw it out of the train," Juliia says. She says she lost one of her children in the crush and started to panic. But then she found the little one in another carriage with a friend. Memories of the journey are almost unbearable: They didn't sleep for days and there was no water in the overcrowded trains. Just a few weeks ago she was working at the Ukrainian Ministry of Construction and leading a full life. Now she is one of 400 Ukrainian refugees who are being accommodated in a former trade-fair hotel in Frankfurt. The women and children moved into the hotel in mid-March. It has been rented by the WISAG facility management company and is being run together with its child help trust KiWIS. All of the rooms are occupied. Up to four people are living in double rooms, depending on the children's ages and degree of kinship.
German neighbours help refugees
"The willingness to help is exceptional," says Dr Annette Gümbel, CEO of KiWIS. The local neighbourhood wants to help wherever possible: In the entrance area parents have posted notices about football events they are organising. Donations of goods and clothing are being stored in the hotel's former spa section. Next door to this is the playroom for the many children. "It was so sweet. A child from Frankfurt wrote a note, attached it to a cuddly toy and delivered it here personally," says the WISAG press officer, Jana Eggert. Ukrainian books have also been donated, as well as board games, drawing paper and coloured pencils. "One refugee mum was an art teacher in Ukraine," Eggert tells us, "and now she's giving painting lessons". The beamer that was once used solely for business presentations will soon be showing children's films. Dr Gümbel tells us about children who are joining in online classes. Some of their teachers are still in Ukraine.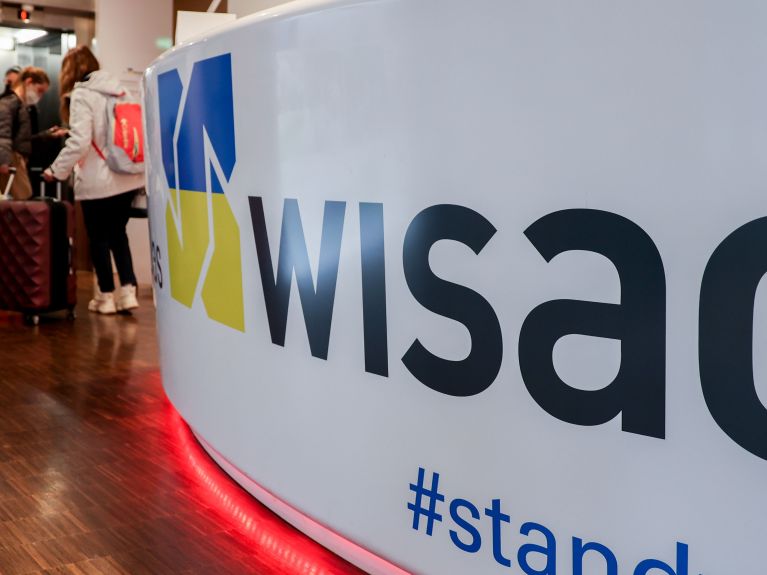 Refugees would like to work
Many of the refugees have a strong urge to be active and to work: Suleymanova misses her job in Dnipro which took her to places around the world. But she says: "I just want to go back home." Now the war in Ukraine is forcing her to stay in Frankfurt where she still has no work. Dr Gümbel says she is not the only one: "The women ask every day when they will be able to work." At least Suleymanova has been able to start learning German via online courses. This will help her when she visits the authorities, when looking for work, and while living in a Frankfurt hotel which is the first home in Germany for her and many others.