Water for the crane
Paintings, photographs and films: art against climate change? These Hamburg-based art projects raise awareness about water as a resource.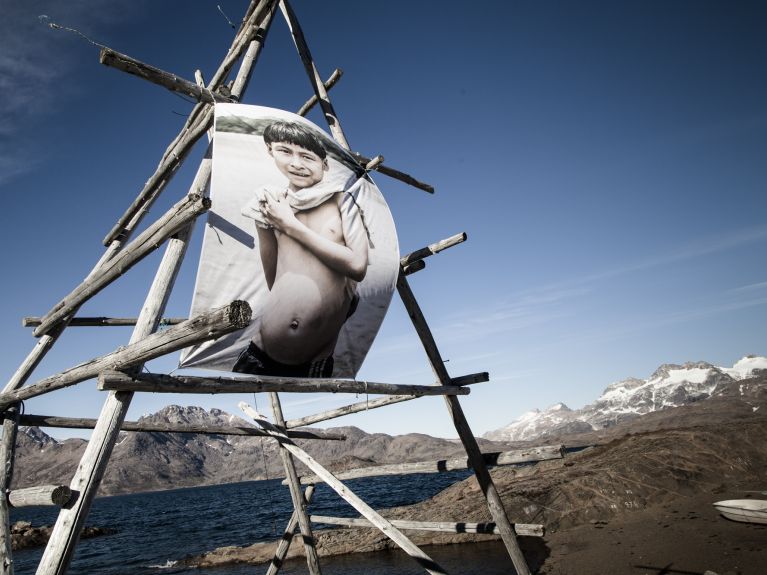 Walls of Water: wall painting on the right to water
The painting of a girl holding out a cup of water to a crested crane, the national emblem of Uganda, decorates the wall of a multistorey building in Kampala. It was painted by international street artists who had travelled to the East African country for the Walls of Water project organised by Viva con Agua. With support from the Federal Foreign Office in Berlin, they painted walls with local children to raise awareness about hygiene and the importance of clean water. Viva con Agua is a non-profit organisation that was founded in Hamburg in 2006. It supports access to basic sanitation with art, music and sports projects worldwide.
#Art-4-Future: portraits in front of melting glaciers
Hamburg-based photographer Barbara Dombrowski has now been focusing on climate change for almost 20 years. Instead of documenting disasters, however, she presents impressive landscapes and their inhabitants, who are especially suffering from the impacts of climate change. One night she had the idea of hanging her pictures on an iceberg. That's why one of her artworks shows portraits of indigenous people from the Amazonian rainforest in front of a glacier in Greenland. The regions that Dombrowski has chosen for this work could hardly be more different. However, climate change means they have much in common. After all, "what happens in one place has consequences elsewhere," says Dombrowski.
DEEPWAVE Film Festival: presenting the endangered beauty of the deep sea in short films
Complete darkness, icy cold and enormous pressure – the deep-sea environment seems life-threatening and remains largely unresearched even today. And yet over half of the Earth's surface is covered with waters that are deeper than 200 metres. The short films at the DEEPWAVE Film Festival for the Protection of the Oceans show fascinating creatures that live beneath the surface of the water. Other topics are endangered coral reefs and the problematical effects of deep-sea mining. The event's organiser is DEEPWAVE, the marine conservation organisation founded by a Hamburg-based deep-sea biologist in 2003. The film festival takes place in Hamburg on 8 May 2020.