A European champion
How one Dutch and two German companies together became world market leaders for machines to produce super microchips.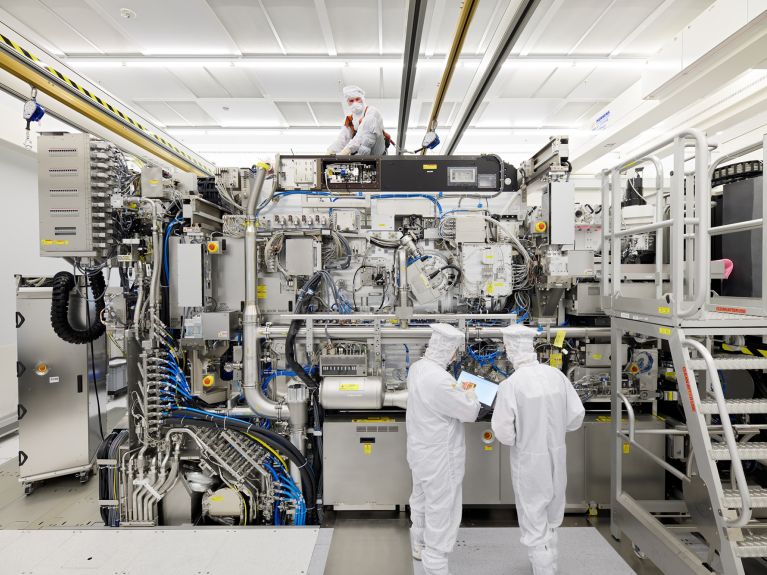 Ever smaller, ever faster – this has been the credo of manufacturers ever since microchips were invented. The idea is to fit more and more transistors into the same space. Transistors are the computing elements of computers, so computing power increases with their density. The trouble is that they are extremely tiny: the iPhone 11 contains seven billion transistors performing trillions of calculations a second.
At some point, though, the development will have to stop. Moore's Law, a dogma of the chip industry – according to which the number of transistors on the same surface area doubles every few months – is approaching its physical limits. The industry has little room for manoeuvre left until new technologies like bio- or quantum computers have reached market maturity. It needs a new tool if it is to accommodate even more transistors – because artificial intelligence and virtual reality are demanding ever more power.
Know-how from Germany's medium-sized industry
ASML, the Dutch manufacturer of lithography systems, has developed precisely such a tool together with two German companies – the Zeiss optics group and the laser manufacturer Trumpf: 'NXE:3400B' for EUV lithography weighs 180 tonnes and costs about 120 million euros. Its laser technology generates extreme ultraviolet light with which much more powerful chips can be produced.
The light's wavelength plays an important role in the etching processes used to make silicon transistors. The shorter the distances between the waves, the more energetic the light and the more precise and finer the etchings.
The light used in the new system has a wavelength of only 13.5 nanometres – compared to the 193 nanometres the industry has been working with up to now. This immense reduction makes it possible to make transistors about five nanometres across. A comparison shows just how tiny this is: if you were to reduce a football to a nanometre, it would be like shrinking the earth to the size of a football. Only Zeiss had the know-how for the mirrors needed, and only Trumpf the technology for the laser. Both are regarded as hidden champions – medium-sized world market leaders in their field. The global chip industry is now dependent on their innovations.
You would like to receive regular information about Germany? Subscribe here: