Experience the Frankfurt Book Fair online
Book Fair digital: exciting events, stimulating discussions and a wide variety of readings. A tour of the programme.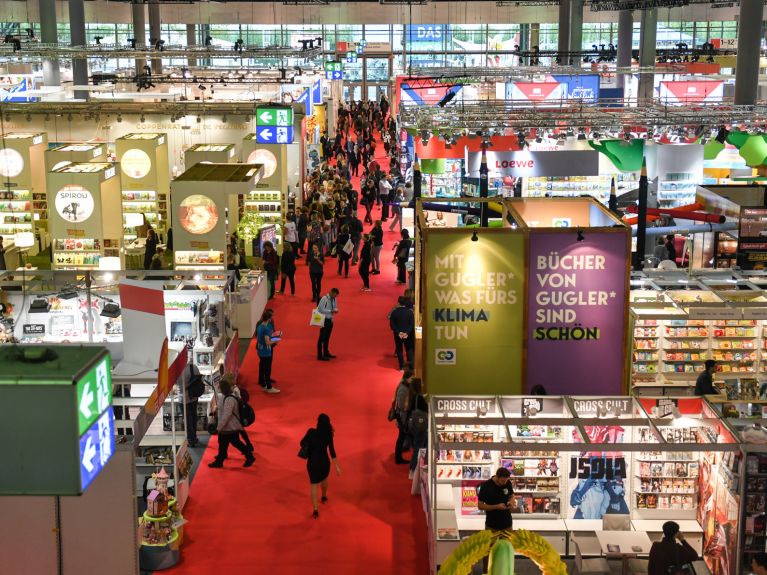 In 2020, everyone who loves books can visit the Frankfurt Book Fair's 'Special Edition' – worldwide. Because in 2020 the trade fair is an exclusively digital affair; the motto is 'All together now'. It offers a wide range of events – from readings and digital exhibitions to live performances.
Presentation of the German Book Prize
The fair opened on 12 October with the traditional presentation of the German Book Prize. The event was held in the Kaisersaal of Frankfurt's Römer town hall and was broadcast live on the German Book Prize website.
The ARD Book Fair Stage
As every year, one highlight of the Book Fair is the ARD Book Fair Stage, where prominent guests meet in discussion groups on topics such as discrimination, democracy movements or climate change. The entire programme is being broadcast live from 14 to 18 October. Among the guests are Cornelia Funke, the world-famous author of books for children and young people, Alice Schwarzer, the best-known representative of German's women's movement, satirist Jan Böhmermann, Joshua Wong, the face of Hong Kong's protest movement, and many other prominent figures.
The Weltempfang ('Global Reception')
The Weltempfang, the international centre for politics, literature and translation at the Book Fair, is also being held digitally this year. On the theme of 'Connecting European Cultures', 42 guests will discuss the future of Europe and European culture during the coronavirus crisis in twelve events starting on 14 October.
The digital Bookfest
The year's biggest digital culture festival will take place on Saturday, 17 October. All culture and literature fans around the world can experience the Bookfest digital – a virtual, moderated cultural show with interviews, discussions and performances – live from their homes. It begins with contributions for the Asian region; this is followed by the European events at noon, and America is on the programme in the evening.
You would like to receive regular information about Germany? Subscribe here: