The world is a book
The German Book Prize, the Frankfurt Book Fair and the German book trade: here you can find out all you need to know about books.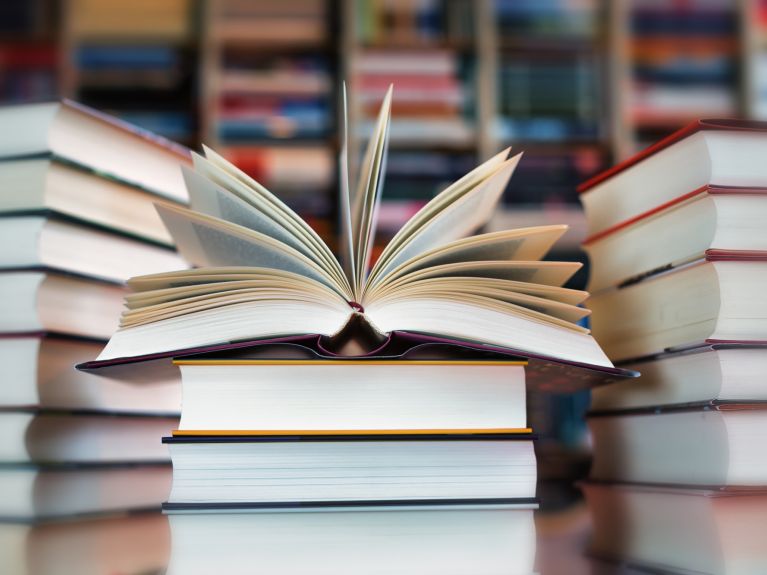 Every autumn, Frankfurt becomes the world capital of literary ideas. Each October, thousands of people travel to the city on the River Main to experience good stories, new trends and exciting lectures at the Frankfurt Book Fair. This major cultural event has been delighting German and international book lovers since 1949. In 2019, 7,450 publishers from 109 countries exhibited and 302,267 visitors came to the world's biggest trade fair for international publishing.
The Book Fair in times of the coronavirus
However, everything is different in 2020. The Book Fair's 'Special Edition' has been moved to the internet because of the coronavirus pandemic. The event's website is offering a free digital service under the motto 'All together now'.
It is particularly important during the crisis that the book fair can take place at all despite the coronavirus – if only digitally. Several weeks of closures have left Germany's book stores with major sales losses. According to the German Publishers & Booksellers Association, sales from March to April were 65.7 percent down on the same period last year.
Publishers, too, recorded significant losses due to the cancellation of readings and trade fairs. From January to May, the year-on-year decline was 14.5 percent. Many book releases were postponed to 2022, and some titles did not appear at all due to the crisis.
The German Book Prize 2020
As usual, the Book Fair will begin with the presentation of the German Book Prize on 12 October. Guests can follow this event featuring the nominated authors in a livestream on the internet from 18:00 hours. The German Publishers & Booksellers Association has been honouring the best German-language novel of the year since 2005. The award is seen as a guarantee that the title will become a best-seller overnight.
The best-known nominees in 2020 include writer and satirist Bov Bjerg with his novel 'Serpentinen' ('Winding Roads') and Thomas Hettche with 'Herzfaden: Roman der Augsburger Puppenkiste ('Heart Thread: Novel of the Augsburger Puppet Theatre'). There are also four candidates on the short list: the Swiss author Dorothee Elminger with 'Aus der Zuckerfabrik' ('From the Sugar Factory'), Anne Weber with the novel 'Annette, ein Heldinnenepos' ('Annette, a Heroic Epic'), first-time novelist Deniz Ohde with 'Streulicht' ('Scattered Light') and Christine Wunnicke with 'Die Dame mit der bemalten Hand' ('The Lady with the Painted Hand').
You would like to receive regular information about Germany? Subscribe here: