Musical geniuses for all eternity
Bach, Beethoven, Schumann: Find out why these composers are celebrated – and how you can experience them in digital form.
Christina Iglhaut / 24.04.2021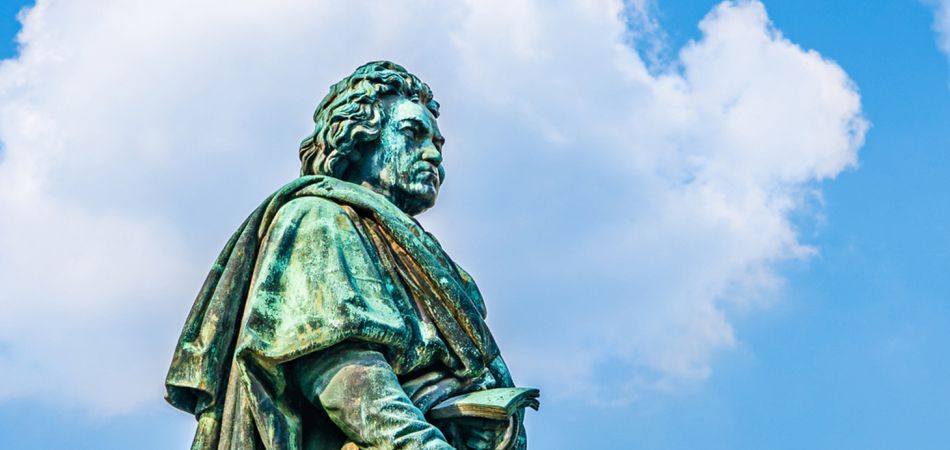 From B as in Bach and Beethoven to S as in Schumann, Germany has produced many musical geniuses. These composers shaped the development of western music and are listened to all over the world.
Johann Sebastian Bach (1685–1750): A family of geniuses
Johann Sebastian Bach was a composer of the Baroque era. His oeuvre encompasses 1,126 cantatas, preludes, masses and chorales. He is famous for his Brandenburg concertos, the Well-Tempered Clavier, his mass in B minor and a number of other instrumental masterpieces.
Did you know that Bach was part of a musical dynasty? His great-grandfather was a bagpipe player and his grandfather a court musician. His father was a violinist, organist, court trumpeter and timpanist. At least two of his uncles composed music. Three brothers – all of whom were likewise called Johann – became musicians. Johann Sebastian (the name he went by) Bach had 20 children. Of those who survived childhood, at least five became composers.
Ludwig van Beethoven (1770–1827): The deaf composer
He was a humanist, a radical music innovator and a visionary – and is still one of the world's most performed composers to this day: Ludwig van Beethoven. Even the loss of his hearing, which already began in his late twenties, did not stop Beethoven from composing. When his famous ninth symphony was premiered in 1824, Beethoven had already been deaf for ten years. An instrumental arrangement of the theme of its last movement later became the European Union's anthem.
Find out some fascinating facts about the German composer here.
Robert Schumann (1810–1856): Spring feelings
The 18-year-old Robert Schumann went to Leipzig to study law. After just a year he switched to music. He moved into the apartment of his piano teacher Friedrich Wieck to train as a pianist. This is where he first met Clara Wieck, the nine-year-old piano-playing wunderkind. Love inspired him: he married Clara in 1840 and made his wedding year a true "Lieder year". He wrote some 150 pieces for piano, including the well-known "Love's Spring" cycle.
Start your virtual tour of the Schumann house in Leipzig here.
Clara Schumann (1819–1896): Between the shadows and the limelight
Robert and Clara Schumann are regarded as the best-known musical duo of the Romantic era. Clara Schumann was far more than just the composer's wife, however. She was an outstanding pianist and an important composer in her own right. During her lifetime, Clara was actually more famous than her husband. Many music critics view her Piano Trio opus 17, written in 1846, as the masterpiece among her compositions.
Did you know that Clara Schumann was the face on the 100 deutschmark note from 1989 to 2002?
You would like to receive regular information about Germany? Subscribe here: