Music that moves
The planet and music in transition and rock against the right: read how these projects work musically for a better world.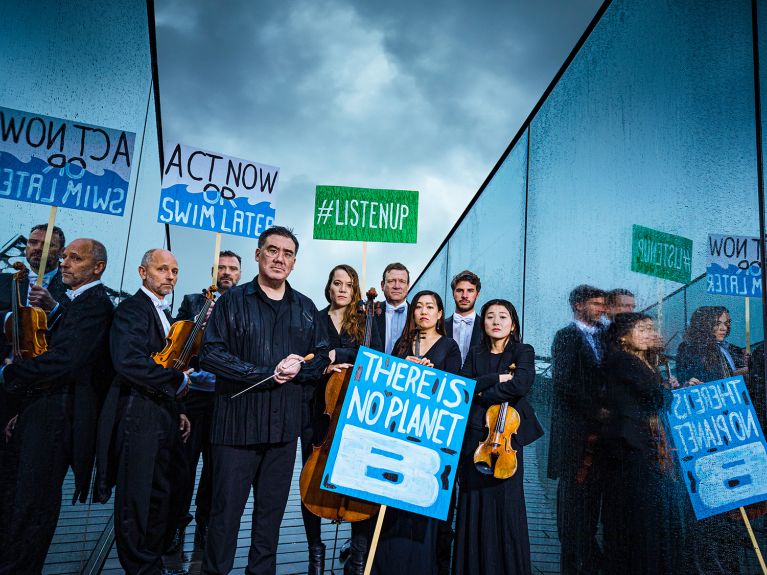 For Seasons - how climate change sounds
With the growth of the Fridays for Future movement, climate protection is becoming an increasingly important subject in music. At the Hamburg Elbphilharmonie in November 2019, therefore, the musicians of the NDR Elbphilharmonie Orchestra presented a new interpretation of Vivaldi's Four Seasons in the composition For Seasons. With the aid of an algorithm, the source material was modified to reflect the consequences of climate change. Just as in current climate data, the summer motif already sneaks into the score in the spring, while 15 per cent of the bird motifs are omitted to indicate the extinction of species.
For Simone Candotto, the solo trombonist of the Elbphilharmonie Orchestra, the piece has a special meaning: "I come from a town near Venice, Vivaldi's place of work, which is especially threatened by climate change. That's why the piece and its reinterpretation are very moving to me."
#WirSindMehr - music against the right
At the beginning of September 2018, around 65,000 people in Chemnitz took a stand against violence and xenophobia. Under the motto "We're More than This", Felix Brummer, frontman of the Chemnitz band Kraftklub, gathered friends together from the music industry for one of the biggest concerts of the year, including German music greats such as K.I.Z., Marteria, Casper and Die Toten Hosen. In 2019, artists like Herbert Grönemeyerand Alligatoah continued the action with the concert "We're Still More than This".
These events are not the only musical statement against right-wing extremism in Germany. Similar concerts and festivals have taken place regularly for years - for example, the annual festival "Rock against the Right" in Düsseldorf.
Bridges - connecting cultures through music
The project Bridges in Frankfurt am Main proves that music can not only take a stand but also connect people directly. Musicians with and without a migration or refugee background have been meeting here since 2015 to form choirs, orchestras and ensembles. The project has brought together over 150 musicians since its inception. Together they get to know the music of their different cultures and let this diversity create new art.
You would like to receive regular information about Germany? Subscribe here: