"German journalism has had a wake-up call"
What will journalism look like in Germany in the future? Is criticism of the media justified? The views of communication expert Christoph Neuberger.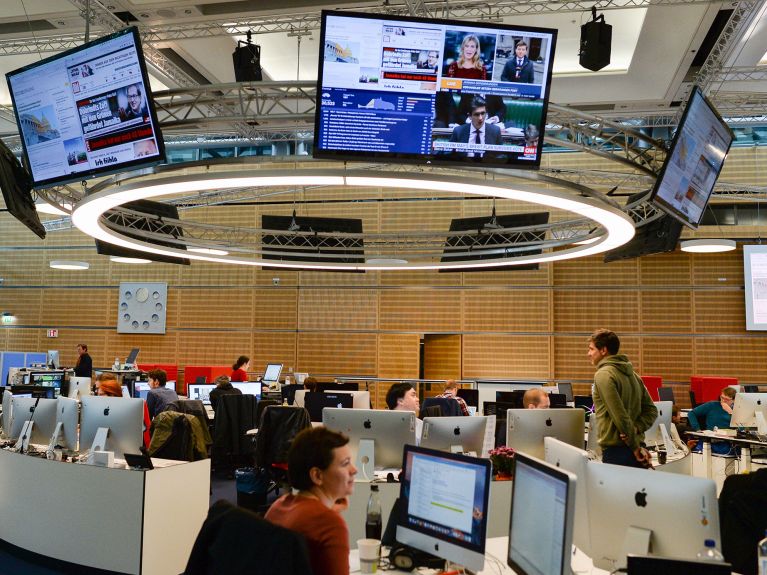 Christoph Neuberger is Professor of Communication Science at the Ludwig Maximilian University in Munich. In an interview he talks about the quality of German media, changes in the media and the role of paid content.
Professor Neuberger, how is German journalism getting on these days?
Three crises are always mentioned: economic pressure, lack of differentiation, loss of quality. There is no denying the economic crisis. The press and radio have lost a lot of ground on the advertising market, since there are attractive alternatives on the Internet. That has left its mark: media companies are cutting back on jobs, and prefer to cooperate, merge and invest outside of journalism.
As far as identity is concerned, journalism has a demarcation problem: because anyone can publish on the internet, journalism has to give itself a clearer profile. As far as quality is concerned, the – often populist – criticism is largely unjustified. Empirical research shows that there is no loss of confidence. The media in Germany are more diverse, more independent and more critical than is often claimed.
How can journalism get out of its crisis?
The crisis has been a wake-up call for journalism in Germany. Never before has it focused on itself so intensely; never before has it been so sensitive to mistakes. There's a feeling of change in the air. Journalism is experimenting with multimedia presentation forms and automated editorial processes. However, the key challenge remains finding new sources of finance. Journalism is so important for democracy that its existence must not depend solely on market forces. However, state aid and private sponsorship create new forms of dependence. It's exciting that attempts are being made to involve our audience more in financing.
Can online and print media coexist?
Print and online media are not natural competitors; rather, they can benefit from each other. For this to happen, media companies must use them according to their respective strengths: breaking news bulletins via Twitter, videos and discussions on the website, editorials and reports in the print edition.
Are Germans willing to pay for journalism?
According to Digital News Report, only eight percent of German online users paid for news in 2017. In the USA the figure was 16 percent. This 'cheapo' mentality on the part of Germans is probably due to the wide range of services on offer and the strong position of public service broadcasting. When a provider puts up a paywall, there are still enough alternatives.
What distinguishes the German media industry?
German journalism is still doing well. There are many quality media: the national daily and weekly press, a broad-based public broadcaster and a diverse regional press.
Interviewer: Christina Iglhaut
You would like to receive regular information about Germany?
Subscribe here: