Music for peace
Benefit concerts, anti-war songs and live performances from Ukrainian bunkers: how German artists and musicians are supporting Ukraine.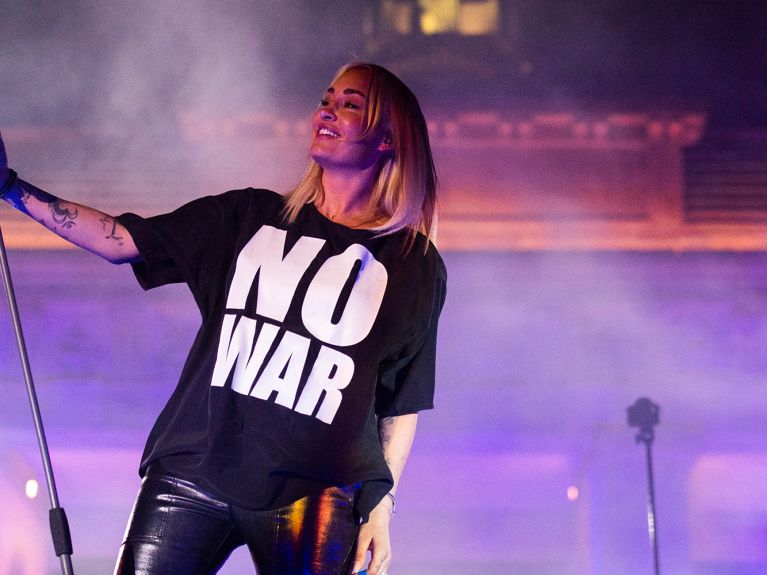 Collecting donations for Ukraine
Since the outbreak of the war artists, associations and orchestras have been organising benefit concerts for Ukraine all over Germany. One of the largest was held at the Brandenburg Gate on 20 March. Fifty German artists came together in Berlin to collect donations for Ukraine under the motto "Sound of Peace". They included the violinist David Garrett, the pop singer Sarah Connor and the exceptional vocal talent Zoe Wees. Natalia Klitschko, the wife of Kyiv's Mayor Vitali Klitschko, also sang "Better Day", a song for Ukraine. In all, donations worth 12 million euros were collected during the concert.
Udo Lindenberg is only known to many of his fans as a singer – but he also paints. Several of his paintings have now been auctioned off for the UNICEF emergency relief effort for children in Ukraine. The singer produced eight banners with anti-war motifs, some of them several metres high, which he signed before the auction.
Music against the war
The wind has changed for the Scorpions, Germany's most successful band. The musicians have rewritten "Wind of Change", the former anthem of the collapse of the Iron Curtain, as a declaration of solidarity for Ukraine. Singer Klaus Meine told Loudwire, the hard rock website, about the new version of the song: "It's not the time with this terrible war in Ukraine raging on, it's not the time to romanticise Russia with lyrics like, 'Follow the Moskva / Down to Gorky Park'. I wanted to make a statement in order to support Ukraine, and so the song starts now with, 'Now listen to my heart / It says Ukraine, waiting for the wind to change'." The song should be understood as an appeal for peace.
The Berlin-based actor and singer Daniel Donskoy is also opposing the war in Ukraine with music. His family has also been especially affected. His father is Russian, his mother Ukrainian, and he was himself born in Moscow. Many of his roughly 100,000 Instagram followers come from Russia. That is why the 32-year-old artist released the Russian song "Nyet Woyna" ("No to War") in mid-March. In it he challenges Putin's war propaganda and tells people in Russia the truth about the war in Ukraine.
Giving Ukrainian musicians a voice
Many Ukrainian musicians are currently seeking refuge from the war. This also applies to Selo i Ludy, the Ukrainian band that is being subjected to Russian bombs and rocket attacks in Kharkiv like their fellow citizens. To give them a platform, Joko Winterscheidt and Klaas Heufer-Umlauf, the popular German presenter duo, enabled them to perform live on German primetime television.
The band concluded their performance from a bunker with the declaration: "We will do our best to survive. We will do our best to protect the borders of the civilised world – and our territory. I promise you, the Germans, that we will come to your country one day and play our music live."