Generating green electricity collaboratively
As the board member of an energy cooperative in Heidelberg, Laura Zöckler is committed to citizens taking over responsibility for the energy transformation.
People who want to contribute to the energy transformation in response to the climate crisis: we introduce individuals whose ideals and commitment are driving the expansion of renewable energies in Germany and around the world.
Naturally produced electricity as a response to the climate crisis
"I learned early on that renewable energy is the solution in the fight against climate change," says Laura Zöckler. The Heidelberg native is committed to an energy transformation that involves citizens. Her vision has already become a reality in many places in the city: "Private individuals produce the renewable energy we need for an ecological energy supply." Zöckler's main job is with Bürgerwerke – a network of more than 110 local energy cooperatives. Since 2011 she has been involved in an honorary capacity with the Heidelberg energy cooperative Heidelberger Energiegenossenschaft (HEG).
It was founded in 2010 as an association of committed citizens. Cooperatives have a long tradition in Germany. They attract people who wish to pursue a common goal according to the principles of self-help, self-administration and independent responsibility. HEG's goal is for people in Heidelberg and the surrounding area to be able to supply 100 percent of their own electric power using renewable energy from the neighbourhood. Zöckler has been one of HEG's three board members since 2018. "We build solar plants financed by our members – and there are more than 1,200 of us. In addition, we supply green power, build electric charging stations and hold a stake in wind turbines."
"We're often get called the 'young rebels' because energy cooperatives otherwise tended to be set up by older people," says Zöckler. Unlike other energy cooperatives, the HEG emerged from a student initiative. It aims to strengthen small, regional energy suppliers. Its work has paid off: HEG was awarded the German Solar Prize in 2014 in recognition of its dedication and commitment.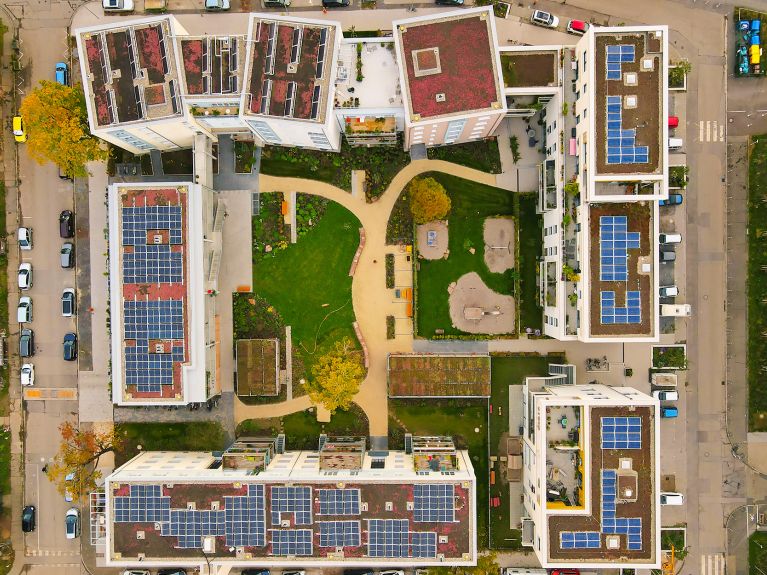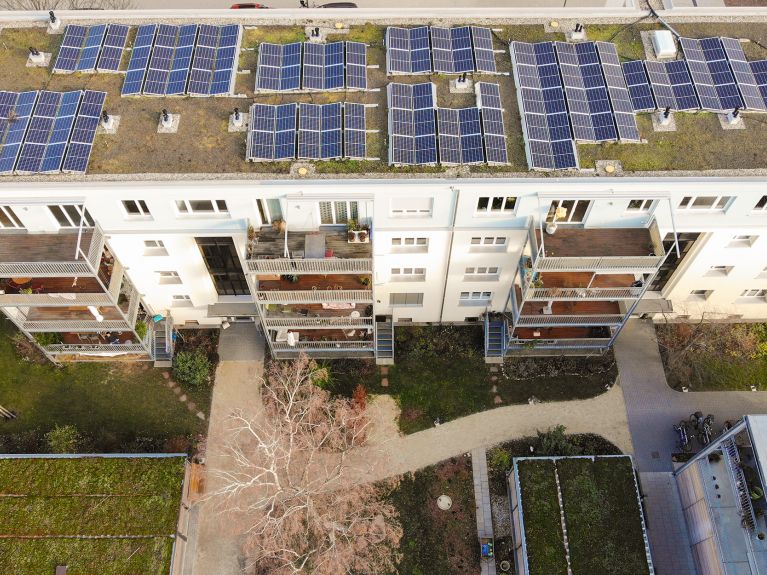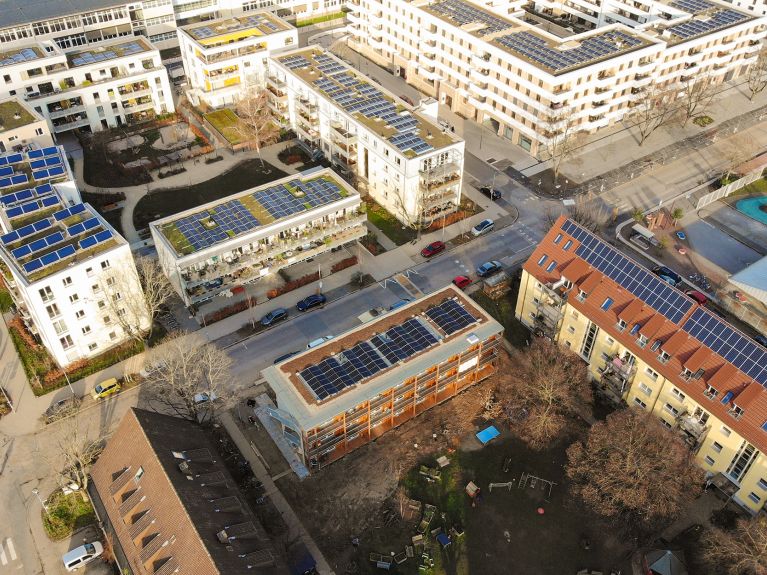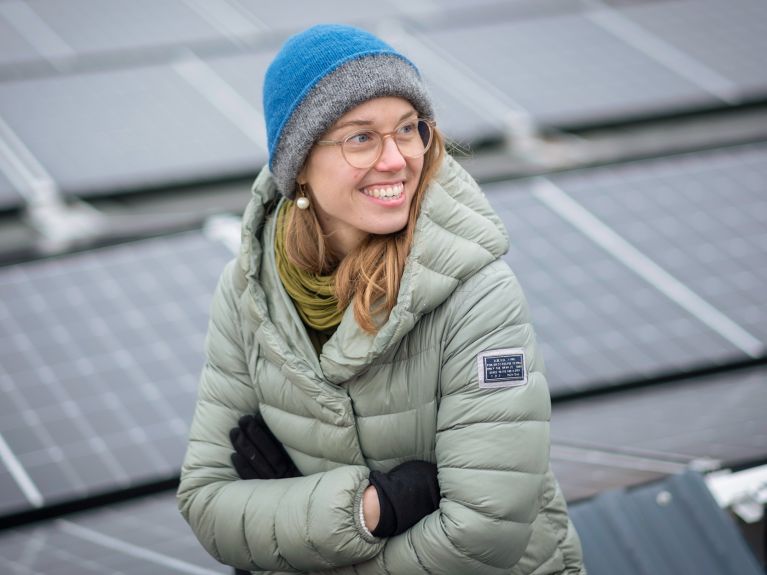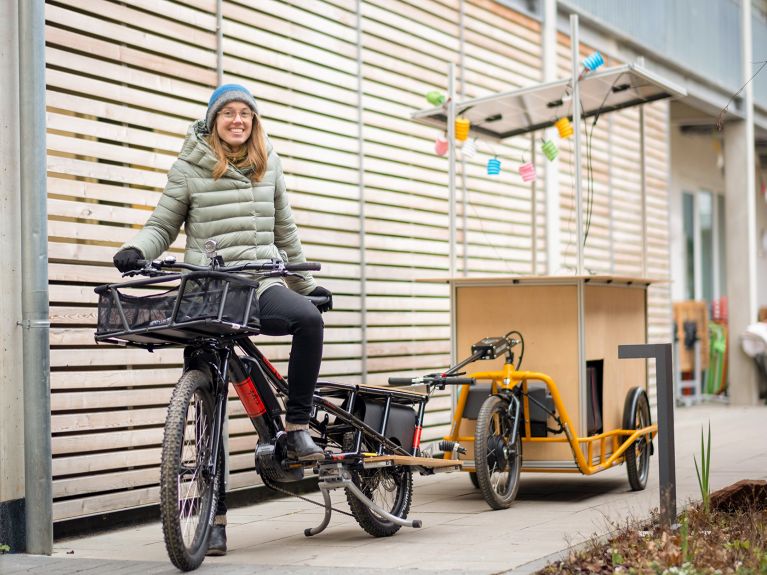 Always on the look-out for free spaces suitable for photovoltaic systems
The cooperative now pursues its own photovoltaic projects in Heidelberg: it takes care of the planning, finance and management all by itself. To this end, Zöckler and her partners are always on the look-out for free roof areas on private buildings, industrial plants, schools, clubs and university buildings. Interest and income from the investments are paid out to the members of the cooperative, and HEG also invests income to implement further projects.
The power generated is available for use directly in the buildings, with surplus electricity being fed back into the grid. For some of this, HEG receives remuneration from the state under the law for the expansion of renewable energies, while some is sold back to Bürgerwerke. People all over Germany can obtain electricity from 100 percent natural sources via the green electricity provider. The interesting point here is that the solar and wind power comes from regional citizen-owned plants like those run by HEG.
"For each kilowatt-hour consumed, a certain amount of the revenue is made available by Bürgerwerke for the expansion of renewable energies. So you can actually do something beneficial with the electricity you consume, too," explains Zöckler. HEG now supplies more than 1,000 households and businesses with green power through Bürgerwerke.
Quick facts
There are 847
energy cooperatives in Germany.
220,000 citizens
are involved in energy cooperatives.
80%
of energy cooperatives operate photovoltaic systems.
8.8
terawatt hours of green power were generated by energy cooperatives in 2020.
3 million tonnes
of CO2 equivalent were avoided in the electricity sector due to the use of renewable energies generated by cooperatives in 2020.
Generating green power on your own roof as a tenant
Through HEG, 130 residents in three apartment buildings in Heidelberg's Südstadt district have also benefited from self-produced green power since 2018, with a fourth apartment building having been added in 2022. As part of this neighbourhood project, residents obtain energy from their own roof via solar panels, and it is then distributed to the individual apartments. Surplus electricity is fed into a storage facility and eight electric charging stations, two of which are permanently available for car-sharing vehicles. If the solar power is not sufficient to supply the buildings, the electricity storage system kicks in. "We're able to people offer electric power from their own roof at a much lower price than they can get it from the national grid," says Zöckler. This means that tenants benefit financially, too. And they know where their electricity is coming from, too, which ensures the develop a sense of ownership.
With this model, no expenses are incurred to property owners who want to give their tenants the opportunity to use solar power from their own roof: HEG takes over the planning, maintenance and financing of the solar panels. "Our projects demonstrate that the energy transformation is a functioning business area. It's a lot of fun and makes sense – and we can enhance regional value creation at the same time," says Zöckler.
Since 2013, cooperative employees have been passing on their knowledge and experience in workshops, enabling other actors to successfully generate and distribute green power. Zöckler is very positive about the whole thing: "We can only implement the energy transformation in cities with tenant power projects."
Generating green power for self-consumption using mini solar systems
In addition, the cooperative promotes the expansion of so-called balcony modules which tenants and flat owners can mount on their balcony grilles. This type of miniature solar system allows them to generate green power for their own consumption. The electricity is fed directly into the apartment via a cable.
See here for portraits of people who are committed to the energy transformation.