Innovations for smallholder farmers
Green innovation centres are intended above all to strengthen smallholder agriculture in 16 partner countries in Africa and Asia.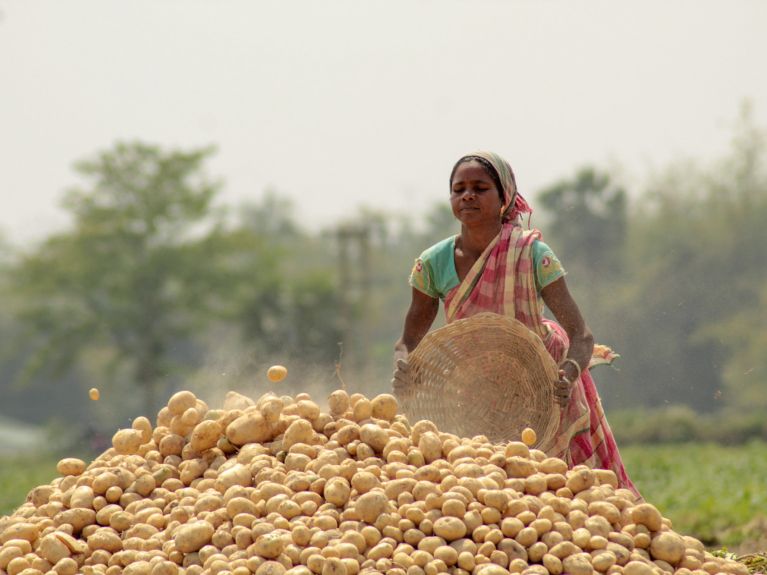 Help in the fight against late blight in potatoes in India, solar dryers for cocoa beans in Cameroon and a mobile workshop van for repairing agricultural machinery in Malawi: in 16 of Germany's partner countries in Africa and Asia, green innovation centres are using a wide variety of instruments to help micro-enterprises in particular to improve regional supplies and increase incomes. For this purpose the German Federal Ministry for Economic Cooperation and Development (BMZ) is providing almost 550 million euros until March 2026 as part of the "ONE WORLD No Hunger" initiative.
Focus on small farmers
"Three quarters of all hungry, malnourished and poor people worldwide live in rural areas", explains a BMZ spokesperson. At the same time, these places are the centre of food supply for the growing world population. Africa is particularly in focus: many of those affected are small farmers who are also feeling the impact of climate change. "In 16 partner countries, the green innovation centres, together with local German and international partners, promote the introduction and dissemination of innovations all along agricultural value chains - from the field to the plate", says the spokesperson, describing the orientation of the centres.
Education and training – a central theme
The innovation centres start at different points. In concrete terms, this means, for example, the use of high-quality seeds and fertilisers, efficient drying methods and the development of cooling systems for storage. According to the ministry, however, the biggest challenge is "a low level of education and training". The innovation centres want to change that: "Innovative ideas are communicated to around 2.7 million people through training, advice and coaching."
Measurable successes of the innovation centres
In 2021, according to BMZ, the supported enterprises were able to increase productivity and income by an average of 24 per cent compared with 2020. In addition, by mid-2022, more than one million of the farms were applying "climate smart innovations" to counteract climate change.
Work will also be created through cooperation with other businesses. According to the BMZ, the results so far are promising: by 2021, the supported companies have created more than 15,000 additional jobs, 68 per cent of which were for young people and 43 per cent for women.
More information on the green innovation centres can be found here.
You would like to receive regular information about Germany? Subscribe here: