With Erasmus to Germany
These are some tips that Erasmus students should know when they come to Germany.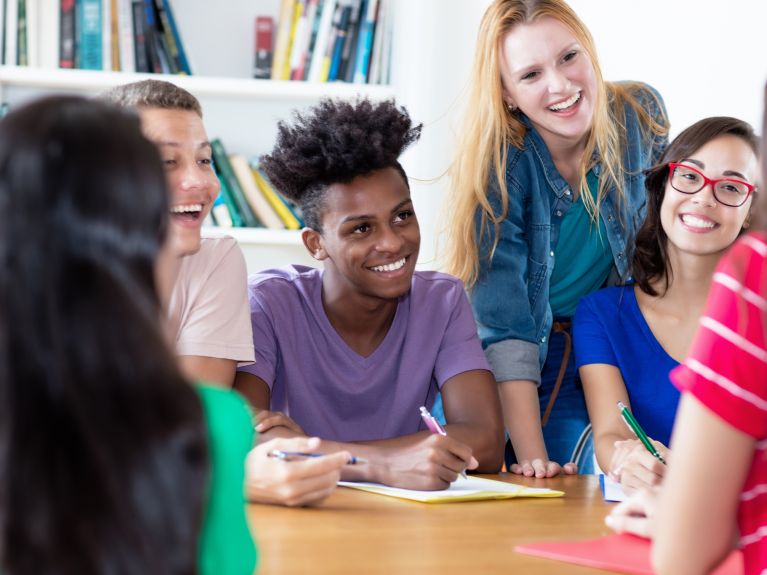 Erasmus+ means studying abroad in Europe? Yes, but it is much more than that. Erasmus+ also means lifelong learning, it means comparable school, university and vocational education in Europe. The EU programme has been building on international exchange for 35 years now, which it facilitates through universally recognised qualifications in all 27 EU countries plus Norway, Iceland, Liechtenstein, Switzerland and Turkey. It is paid for by the EU with about 450 million euros per year.
Here a few valuable tips if you're coming to Germany as part of Erasmus+.
Living in Germany
Germany is an international country, with 10.6 million nationals from other countries living here. Almost 12 million of the 72 million German citizens have a migration background, that is, they are first or second generation immigrants. Here we give you a few tips for everyday life in Germany.
You can find etiquette advice for everyday life and work, ranging from shaking hands and punctuality to knocking on doors, at this site: Umgangsformen im Alltag (Mannners in Everyday Life)
Here expats tell you how you can best get along: So schafft Ihr es in Deutschland (How to make it in Germany)
University study in Germany
Almost three million people are enrolled at German universities, and more than ten percent of them come from abroad.
You can find some basic information here, ranging from cheap housing to language tests, here: Sieben Tipps zum Studium in Deutschland (Seven tips on university study in Germany).
We answer our community's question about tuition fees here: Wie finanziere ich ein Studium in Deutschland? (How do I finance my university studies in Germany?)
You can find all the important information about university study here: Studieren in Deutschland (University Study in Germany).
For vocational training in Germany
Vocational training in Germany rests on two pillars: a practical part in companies and an inter-company theoretical part in special vocational schools; that's why this training is called "dual training".
Would you would like to start a traineeship in Germany? Here you will find valuable tips on everything from visa questions to finding trainee positions: Karrierestart in Deutschland (Starting a Career in Germany).
Here you can get information from an expert: Karrierestart in der EU (Starting a Career in the EU).
Still have any questions? You will find the answers here: Deine Chance in Europa (Your Chance in Europe).
You would like to receive regular information about Germany? Subscribe here: