Erasmus+ - more than studying abroad
EITA is a special award for Erasmus education projects in Europe. We present four award winners from Germany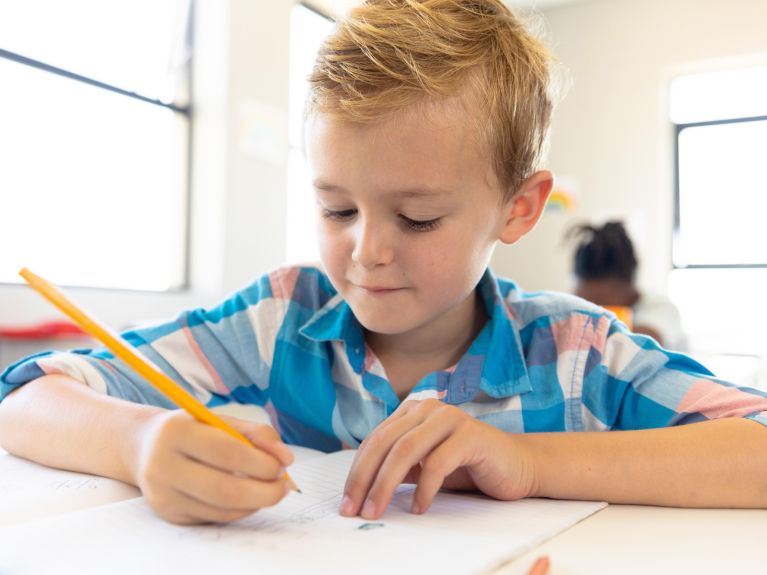 Erasmus+ is the European Union's programme to promote education, youth and sport in the member states. Known to many as an exchange programme for trainees and university students, it also supports education projects. Here we present four examples of German participation that were awarded the EU's "European Innovative Teaching Award" (EITA) for the first time in 2021.
Promoting writing skills in children
Writing by hand trains children's brains and motor skills, significantly increases their educational opportunities and benefits spelling, memory and reading performance. The research project HS-Tutorials of the Schreibmotorik Institut therefore develops and tests handouts with partners in Germany, Austria and Italy to facilitate the acquisition of writing skills by children in schools and kindergartens. The great success of the comprehensive learning concept was rewarded with the EITA.
"Come, I'll show you my city".
The EITA was also jointly awarded to the Gutenberg School in Dierdorf/Rhineland-Palatinate and the Henryk Jordan School in Krotoszyn/Poland. With "Come, I'll show you my city", teachers and pupils of the Gutenberg School compiled a digital city guide for children together with the Polish partner school Henryk Jordan in Krotoszyn. Over a period of two years, the German and Polish children created videos, e-books and other presentations. In the process, they learn to grasp their own and foreign environments, process them intellectually and present them to others.
Mobile teachers and digital learning
The project "Meeting the Challenges of the Internationalised World of Work in the 21st Century" of the Helmholtz High Scholl Bonn promotes international cooperation and the advanced training of teachers (in their free time) at foreign schools in an exemplary way. It focuses on digital forms of learning in a modern digitalised school.
Mobile phone app FACE:IT with double learning effect
Students at the State Business School in Dinkelsbühl, Bavaria, have developed a five-language quiz and learning app together with partner schools in Lechena/Greece, Fuente Palmera/Spain and Kluczbork/Poland. FACE:IT (Fun And Curriculum-Oriented Exercises for Information Technology) received the award for its multiple learning effects, both for users and for the students who planed and created the app with 220 questions.  
You would like to receive regular information about Germany? Subscribe here: