"Experiencing the European Project"
Christian Tauch of the German Rectors' Conference explains why the Erasmus programme is more important today than ever.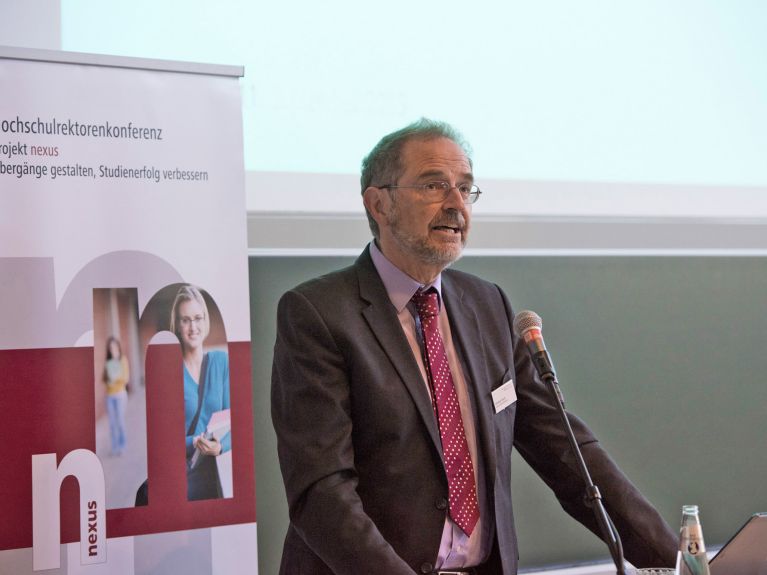 For 35 years, the Erasmus exchange programme has allowed young people to study abroad. Christian Tauch, Head of the Education Division at the German Rectors' Conference (HRK), explains how universities in Germany and Europe benefit from the programme and why it is so important right now.
Mr Tauch, the Erasmus programme celebrates its 35th anniversary this year. How much has the programme influenced or changed the German and European higher education landscape?
Most of the fundamental changes in Germany and Europe in the area of university teaching were initiated or at least supported by the Bologna Process - from the introduction of the tiered study structure to the Europe-wide standards for quality assurance to improved procedures for academic recognition. All this would have hardly been possible without the Erasmus programme. Although it started more than a decade before the Bologna Process, it formed the basis and created the conditions for European higher education reform. It was Erasmus that led to the increase in student and teacher mobility from which the idea of a European Higher Education Area could develop.
The Erasmus programme is regarded as a best-practice example of mutual understanding in Europe. What contribution can it make to cohesion, especially today?
Shortly after the Erasmus programme began, the Iron Curtain fell in Europe, creating the conditions for the peaceful exchanges between universities ranging from Tallinn to Lisbon and from Glasgow to Bucharest which developed in the years that followed. Understanding between the peoples of Europe was welcomed, but at the same time it was seen as a matter-of-course and irreversible result of historical developments. In recent years, this optimistic picture has been clouded by Brexit, the rise of nationalist movements and the questioning of academic freedom in some European countries, and since February 2022 there has again even been war in Europe. In view of these developments, it is more important than ever that young Europeans have the opportunity to experience the European project in a concrete way thanks to Erasmus.
A look into the future: what should Erasmus look like on its 50th anniversary?
Under the impression of climate change, discussions have been going on for years about how to maintain mobility and at the same time reduce the burden on the environment. The coronavirus pandemic has forced us to expand massively the possibilities for digital teaching and learning in a very short time, and we will now be able to bring this experience into the further development of the Erasmus programme. The programme's concern to sustain the European project will be more pressing than ever in the coming years, and we will make much greater use of virtual and digital forms of collaboration and mobility.
You would like to receive regular information about Germany? Subscribe here: