Studying despite persecution
The Hilde Domin Programme helps people at risk to continue their academic studies in Germany: here are the most important facts.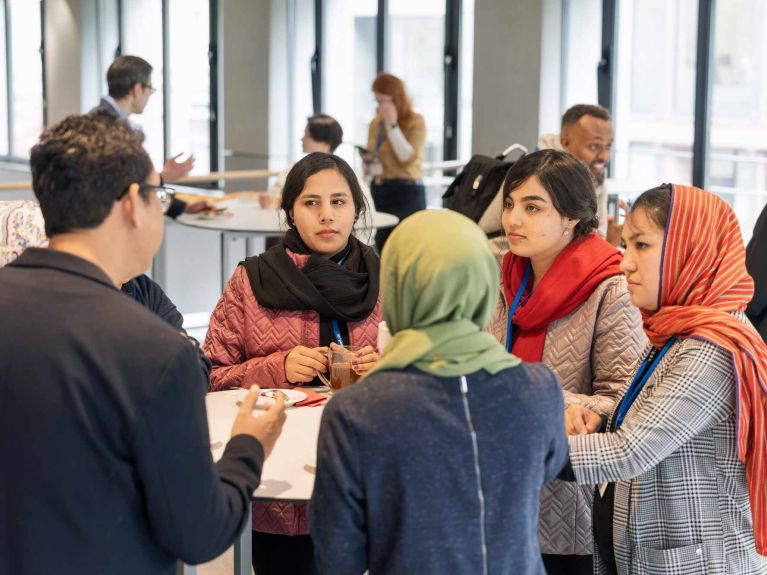 What does the Hilde Domin Programme do?
"We want to help people who are prevented from continuing their academic career by repressive measures in their home countries," says Philipp Effertz, head of the Middle East department at the German Academic Exchange Service (DAAD) and responsible for the Hilde Domin Programme. Its scholarships cover the students' rent and living expenses so that they can continue their studies in Germany. The DAAD awards 50 scholarships a year via the Hilde Domin Programme, which is funded by the Federal Foreign Office (AA). Special funds from the AA make additional scholarships possible for Iranians. 
Who can apply?
Students of any academic discipline who have been nominated by their higher education institution or a civil-society organization can apply for a scholarship. Applicants also need proof of their social commitment. Many scholarship recipients take a stand for students in their home countries, says Effertz. "Whether they end up returning home or not, the participants will be an asset to their respective societies."
Is the level of personal risk an important factor?
Yes. The DAAD pays particular attention to individual vulnerability in the selection process: "Everyone has to make a statement outlining what kind of risk they face," Effertz says. "In addition, some applicants submit other documents, such as university de-registration certificates. But that's only optional." In the interviews, he said, the commission focuses on academic aspects. "Questions about safety would be too risky."  
Is any other content taught in addition to the course of study itself?
Funded master's and doctoral students participate in an accompanying interdisciplinary programme in which they get to know the German educational and social system. In addition, they gain qualifications for the German and international job market and can take part in job application courses, for example. "We want them to have prospects, whether in Germany or in their home countries."
How popular is the programme?
Very popular: there are about 5,000 applications for the 50 available places each year. And those who have been through the programme say it was a positive experience. Philipp Effertz: "We know from the feedback we get that if it wasn't for the programme, the participants wouldn't have been able to continue their education as they are doing now." 
You would like to receive regular information about Germany? Subscribe here: