Games with added value
They make learning fun: serious games are used in schools, universities and companies. Three examples from Germany.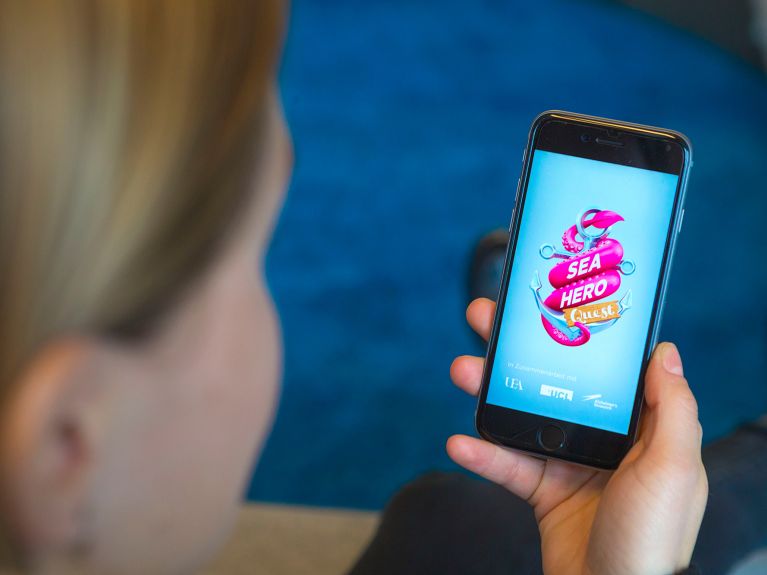 Germany. What is play and what is serious? Increasingly the boundaries between computer games for entertainment and serious games are blurring. Games are used as an educational medium in schools, universities, companies and the health sector. Why shouldn't learning too be fun? "Serious games train motor skills, the ability to think logically and spatially, and certain behaviours", explains Linda Breitlauch, a professor of Game Design. Three examples.
Learning English playfully: "Vocabicar"
The language learning game "Vocabicar" is the winner of the German Computer Game Award 2018 in the category of Serious Games. It was developed in collaboration with the textbook publisher Westermann and is aimed at children between eight to twelve years of age. Players choose a vehicle, navigate it through virtual spaces and collect vocabulary in a swift ride. In this way they rapidly expand their vocabulary.
Play for research: Sea Hero Quest
If you play Sea Hero Quest, you do your bit to help people suffering from dementia. Deutsche Telekom has developed this virtual reality game in collaboration with international research institutes and game designers. The players assume the role of a young man who retrieves the lost memories of his father, who was once a seafarer. When navigating through the three-dimensional game world, they generate reaction and movement patterns that flow anonymously into a science database. Researchers thus gain standard data on spatial orientation that can be used to refine the early diagnosis of dementia. Since 2016, more than three million players worldwide have contributed to the databank. In 2018 the results of an accompanying study will be presented.
Training for your career: "transAction"
At RWTH Aachen University, business administration students delve into their subject in the simulation game "transAction" and practice the management of a company. In the role of an automobile manufacturer, they are responsible for production processes, accounting and personnel planning.
Serious games are getting smarter and smarter
The development of serious games has evolved from a niche market into a growing segment of the German gaming market. Their increased use in the industrial environment – for example, in training and user training – has contributed to this. At the Serious Games Conference 2018, which will be held on 14 June as part of the CeBIT computer trade fair in Hanover, the topic of artificial intelligence will be the focus. The boundaries between the real and the virtual worlds are also becoming blurred.
Information about the games industry in Germany
German Games Industry Association
Games Week Berlin, 23 – 29.4.2018