The two bright sparks behind Biontech
Ugur Sahin and Özlem Türeci established the Mainz-based pharmaceuticals company – and have now found a vaccine against coronavirus.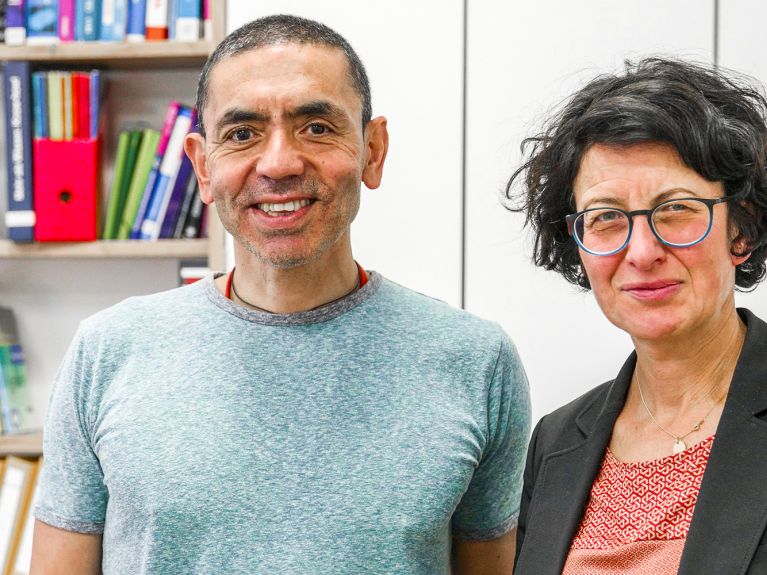 It all started with the fight against cancer. In 2008, Ugur Sahin and his wife Özlem Türeci teamed up with Christoph Huber to establish the company Biontech in Mainz with a view to conducting research into drugs and technologies for cancer therapies. Biontech, together with its US partner Pfizer, has now developed a vaccine which, according to initial studies, offers over 90 percent protection against Covid-19.
Sahin, who is 55, still runs the company as its CEO, while 53-year-old Türeci is its medical director. Both are medical doctors who met at Saarland University Medical Center in Homburg. Sahin, who was born in Turkey and did his PhD in Cologne, came to Germany with his parents because his father had found a job at a car factory. From 1992 to 2000, he worked as a scientist and specialist in internal medicine at Saarland University Medical Center. He qualified as a professor of molecular medicine and immunology in 1999. A doctor's daughter who was born in Germany, Türeci obtained her doctorate from the university in Homburg. As she once explained in an interview, she is motivated primarily by her desire to help people. And in this she hasn't changed: she still much prefers spending her time on scientific publications and research than on public appearances.
Sahin is also more self-effacing scientist than smart CEO of the current star of the world's stock exchanges. In a soft voice, he talks matter-of-factly about complex processes in human cells. He described the study's interim result as a "turning point, both for our company and for innovation in science. These data bring us a step closer to a possible solution for the current global pandemic."
The success is the result of a research project entitled "Speed of light", Sahin explained in an interview. It was a question of concentrating on the essentials and eliminating waiting times. "To create this mindset within the team and all the others, we decided to name the project "speed of light". Light never stands still, it's always in motion, so this project is also being conducted without delays, without waiting times, and with the highest priority."