Protein from lupine seeds
A German research team has developed a new method for producing high-quality protein from lupine seeds.
03.12.2014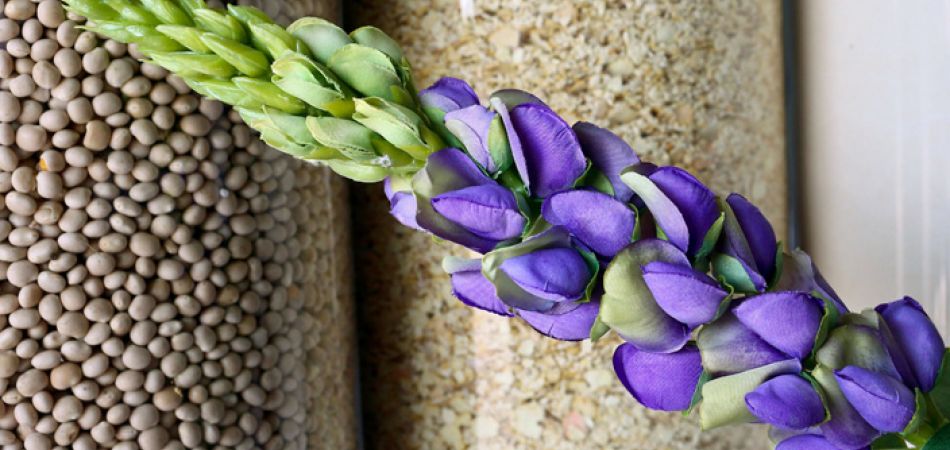 A high level of meat consumption not only leads to health problems, it also causes ecological damage: liquid manure from livestock farming pollutes the soil and groundwater, and the areas of land affected by this are increasing worldwide. But there are alternatives. Plants are also a useful source of protein. At the moment such foodstuffs are based above all on soybeans, but their flavour and consistency are not always to everyone's taste. This presents a challenge to food technology. Three experts from the Fraunhofer Institute for Process Engineering and Packaging (IVV) in Freising, Bavaria, and the Prolupin company in Grimmen, Mecklenburg-Western Pomerania, have now managed to produce high-quality proteins from lupine seeds – on an industrial scale. Federal President Joachim Gauck has presented the 2014 German Future Award to the trio in Berlin. The new approach has numerous advantages. "The blue sweet lupine is especially well adapted to Central European climate conditions," explains the IVV team spokesperson Stephanie Mittermaier. The plants also grow in places that are too cold for soybeans. In addition to this, they are able to thrive in poor rocky soils which would otherwise need strong fertilisation for cultivation.
Vegan lupine ice cream
After the lupine seeds have been peeled and pressed, the protein is extracted with the help of carbon dioxide. The gas is exposed to pressure of more than 74 bars at a temperature of 32 degrees Celsius, and in this condition it acts as a solvent. The great thing about this method is that not only the fats but also the unwanted flavours are 'washed out' of the lupine flakes. In further processing steps the protein molecules are separated from the fibres until a pure, tasteless protein fraction remains. Stephanie Mittermaier says that this product is extremely easy to make into creamy masses. A lupine-based vegan ice cream has already been produced and marketed. Lupine milk, joghurt and sausage are due to follow soon.
International World Soil Day on 5 December 2014
www.deutscher-zukunftspreis.de
Video: www.ivv.fraunhofer.de