Talking about roots
Open, humorous, relaxed: These formats focus on migration stories – and lots of other things as well.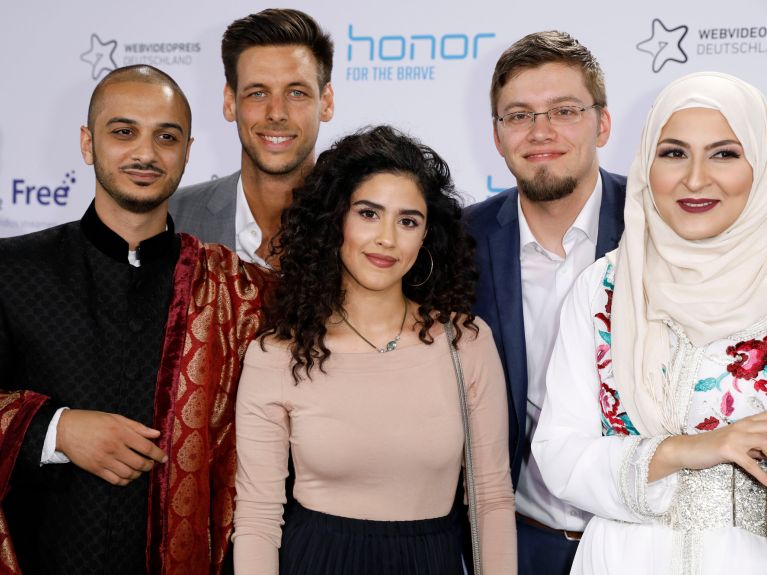 Humorous videos: Datteltäter
They discovered a "massive gap in Germany's media landscape as far as Muslim voices are concerned". That's what motivated a group of young creatives with a migration history to found the Datteltäter collective. Their aim is to open up new perspectives and provide food for thought with videos and other contributions about the lives of young Muslims in Germany. What's more, they are sharing their skills with others via the Datteltäter Academy and enabling them to join in.
Podcast with nuances: Halbe Katoffl
He wants to "illuminate the nuances, the completely normal aspects of life," says Frank Joung. This perspective is often missing as far as people with a migration history are concerned. That's why Young, whose parents come from South Korea, wants to talk about other topics with his guests and not just about their roots in his podcast Halbe Katoffl. Even so, the topic of origins does still tend to resonate in most cases. For instance, Joung chats with rapper Moses Pelham about music and emotions, with the blogger Shia Su about waste prevention, and the female footballer Tuğba Tekkal about sport as a form of liberation.
Conversations beyond being different: Auf einen Döner
She wants to "shift the focus from being different," says Filiz Recber, a restaurant owner who was born in Böblingen with Turkish roots. Yet time and again she is reminded of precisely these roots by customers, co-workers or others, at her kebab restaurant Ützel Brützel in Stuttgart city centre. That's why, in her Auf einen Döner podcast, she talks with celebrities about their origins and what they mean to them – not as a burden, but as a fact which often becomes the starting point for very special journeys through life.
You would like to receive regular information about Germany? Subscribe here: