Destined for plate rather than waste bin
Too much food worldwide ends up as waste. How can that be prevented? Here are three clever ideas from Germany.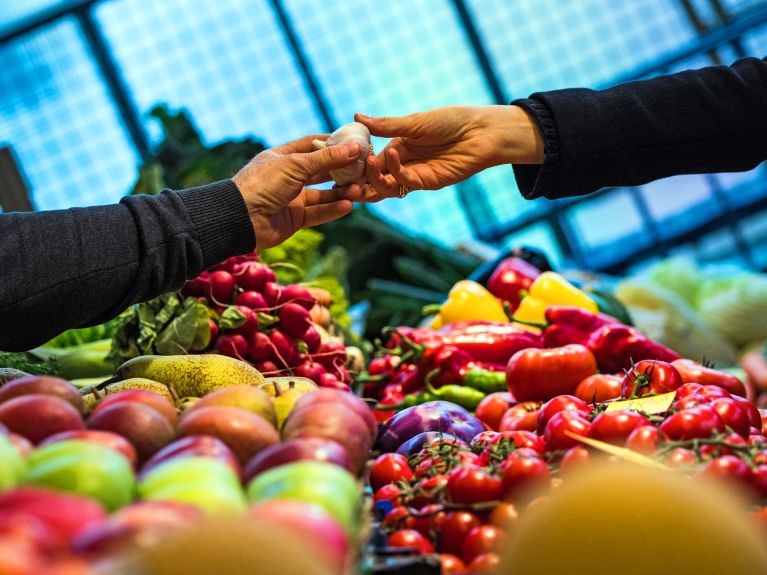 Food sharing
"Leftover food" is the motto of Foodsharing, an initiative that began in Berlin in 2012. In cooperation with small enterprises, Foodsharing offers baskets of surplus food free of charge on the Internet. Today there are 5,000 cooperation partners in Germany, Austria and Switzerland. Foodsharing has set up so-called Fair-Teiler to stop food from private households landing in the rubbish bin: hundreds of shelves and refrigerators have been made available in public spaces in Germany for food donors and recipients to use.
Buy a cow
Eat less meat, but make sure it's good produce direct from the farm. That is the philosophy of kaufnekuh.de, a website that enables customers who value sustainable nutrition and species-appropriate animal husbandry to buy a cow together as a group through the Internet. "Crowdbutching" is the name of this idea, which was honoured by the Federal Ministry of Food and Agriculture in 2018 as part of the anti-waste campaign "Zu gut für die Tonne!". The company offers roughly ten cows per week. They are only slaughtered when the whole animal has been sold. Everything is used – from head to tail. The meat is sent directly from the slaughterhouse to the customer by mail.
Finicky
Georg Lindermair buys bent carrots, small apples and oversized courgettes – products the supermarkets won't take from farmers. He founded the Munich-based startup Etepetete, which means fussy or finicky, with Carsten Wille and Christopher Hallhuber. The business dispatches seasonal vegetables plastic-free all over Germany. Customers can put together their own boxes of produce online as they wish. The Etepetete founders say they have already saved 1,386,301 kilograms of food from the waste dump.
You would like to receive regular information about Germany? Subscribe here to: