Boundless dedication
Many young Germans complete a period of voluntary service abroad after leaving school. Three of them report on their experiences in India, Uzbekistan and France.
Jasmin Siebert / 08.08.2019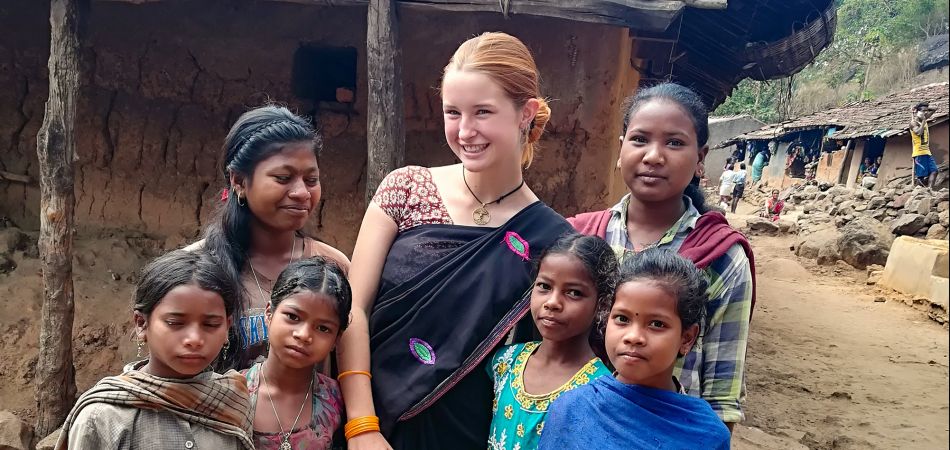 Start an apprenticeship or studying at university straight after leaving school? That's too soon for many young people. Instead they work as a volunteer abroad for a time. Three Germans look back.
Learning Yiddish in Paris
"I was the first volunteer at the Maison de la Culture Yiddish in Paris and received a very kind reception. My parents come from Vietnam, I attended a Catholic school and previously had no contact with Judaism. That makes it all the more exciting for me to get to know Yiddish culture. I dispatch parcels, sort books, assist at events, serve at the counter and help out here and there. I've had lots of inspiring encounters at the Maison."
Performing improv theatre in Samarkand
"I ended up in Uzbekistan by chance. I help out in German lessons there and organise free-time activities. That suits me very well, because I'm thinking about becoming a teacher. I perform improv theatre with the students and invite them to my apartment to discuss nuclear power and other sensitive political questions. In the process I've encountered interesting new perspectives. I have had my own apartment for the first time here. I bought the furniture at the bazaar with the landlord, and the neighbours soon invited me round for a meal."
Writing newsletters in Hyderabad
"My first visit to a village was overwhelming: sleeping on the floor, collecting water from the well, enormous hospitality. I'm developing a newsletter for children who live in hostels far away from their families. It's all about preserving traditional knowledge and maintaining tribal identity. We are also maping rare plants to show that the countryside is worth protecting. During this year I've become more radical when it comes to environmental protection: I've helped write speeches for Fridays for Future. I will soon be studying international relations and would like to set up an upcycling group."
You would like to receive regular information about Germany? Subscribe here: