Dialogue and encounter
Cardinal Marx talks about the work of the churches for a peaceful world.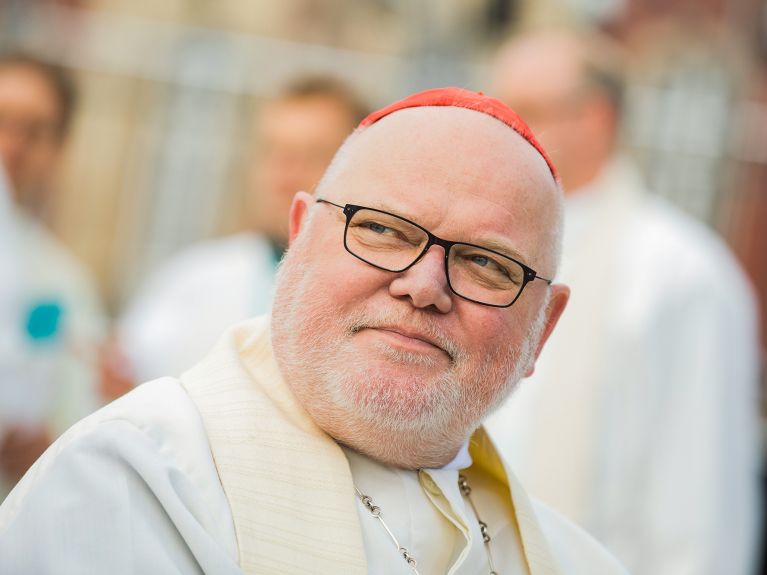 "The image used by John Paul II at the Assisi meeting of world religions in 1986 was historic. It was like a vision. We thought it was an impetus and the religions of the world would be part of the solution to humanity's problems in the twenty-first century, working for more peace so that a human family could grow together, even as the religions strove to come together and set an example. We all know that this has not been so easy. That divisions and tensions, the fear of losing one's identity, the fear of the other, have increased.
And yet this historic image of Assisi remains a leitmotif, for me in any case least and for all of us. We know that it is difficult and that afterwards not everything has happened as was hoped.
But it needs constant work. Dialogue and encounter are an opportunity, the opportunity for a peaceful and free world. How could it be otherwise? If it is not possible to meet each other on an equal footing, to listen, to respect the other, even in his or her different position without having to adopt it, then there is no basis for dialogue.
We feel that this challenge has grown greater; think only of the issues migration and integration. An ongoing challenge. What is integration? We have been discussing this for decades. But without dialogue, without cooperation, it will not work. Especially in view of the dialogue of Christianity with Islam, we again face a challenge. For in the early stages of a dialogue with all religions, we may have learned that we need to focus, and that dialogue must be structured and not just general, looking beyond all differences. Particularly challenging in our country is the dialogue between Christianity and Islam. The dialogue must lead us to leave behind us the against-one-other, also the next-to-one-another, and to find a with-one-another.
We need to stand up together, Muslims and Christians, both of whom are particularly challenged here, against any form of hatred and any form of religiously motivated violence. Together we must find a way to speak up publicly and also to ensure that within our communities there is no room for hatred and discrimination, the refusal to enter into dialogue and enmity. This is especially true for anti-Semitism. But also for taking a stand against a hate-filled Islamophobia that makes any cooperation impossible. Here, too, is a concern we need to focus on, Muslims and Christians together: that we stand up against the prophets of fear."
Excerpts from the ceremonial address given by Reinhard Cardinal Marx, President of the German Bishops' Conference, on the occasion of the 40th anniversary of the CIBEDO in October 2018 in Berlin.
You would like to receive regular information about Germany?
Subscribe here: