German-Polish schoolbook
Federal Foreign Minister Frank-Walter Steinmeier and his Polish counterpart Witold Waszczykowski have presented the first volume of a German-Polish schoolbook in Berlin.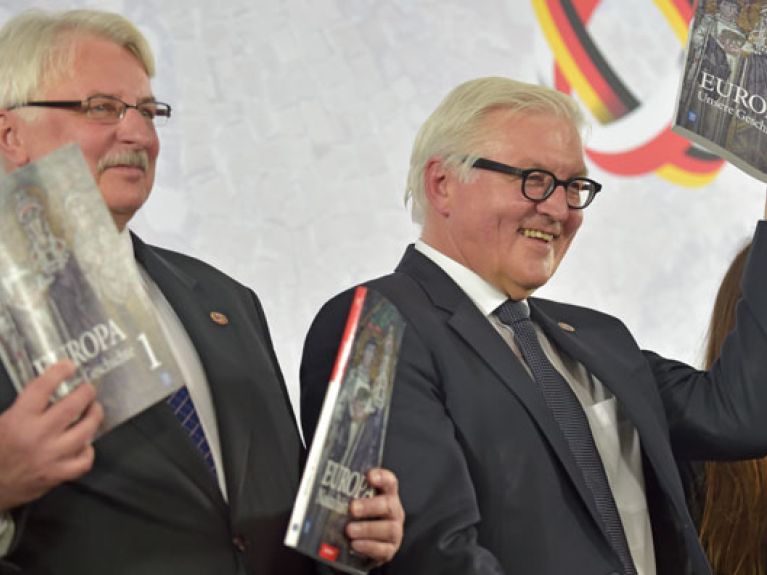 The venue was fairly everyday, making the project all the more spectacular. On 22 June 2016 Federal Foreign Minister Frank-Walter Steinmeier and his Polish counterpart Witold Waszczykowski together with the Brandenburg Minister of Education Günter Baaske presented the schoolbook entitled "Europe. Our History" in the assembly hall of Robert Jungk High School in Berlin. It is the first book for school lessons prepared jointly by Poles and Germans. Since 2012 historians, pedagogues and authors from both countries have worked to elaborate the contents. And now volume one in the schoolbook series is fresh off the presses in both German and Polish – just in time for the 25th anniversary of the Polish-German Treaty of Good Neighbourship.
"I think it's great that we are holding the presentation together," said Steinmeier turning to his counterpart. The visit in the high school in Berlin, where a quarter of the pupils learn in German and Polish, was no less important to him than the official festive ceremony commemorating the Treaty that was later held in the Federal Chancellery. For the Polish Foreign Minister the book had both a political character and practical significance. "Pupils learn history from a shared perspective," Waszczykowski said. This will strengthen tolerance for the respective other view of things and help eliminate stereotypes.
Three further volumes are planned
Back in 2008 the governments of Poland and Germany agreed to develop a joint schoolbook for history lessons. With immediate effect pupils in Germany and Poland in years 5 to 10 will be able to study using the first volume on the history of Europe from Classical Antiquity to the Middle Ages as it complies with the curriculum in both countries. Three additional volumes in the series covering the history of Europe through to the beginning of the 21st century and destined for school teaching are scheduled to follow by 2020.
The members of the council of experts emphasised that the book is primarily a book for teaching European history. "It is a joint, European history narrative," commented Robert Traba, Chairman of the Joint German-Polish Schoolbook Commission, which was founded as long ago as 1972. It is an expectation shared by the pupils, who were on stage with the experts in the Berlin school's assembly hall. "We will see history from two sides. It will be more objective and will include topics that until now have been omitted," said an 8th-year girl who had travelled from Poznan to attend the event.