Merkel leaves – Scholz arrives
Olaf Scholz is Germany's new chancellor – before him, Angela Merkel headed the country's federal government for 16 years.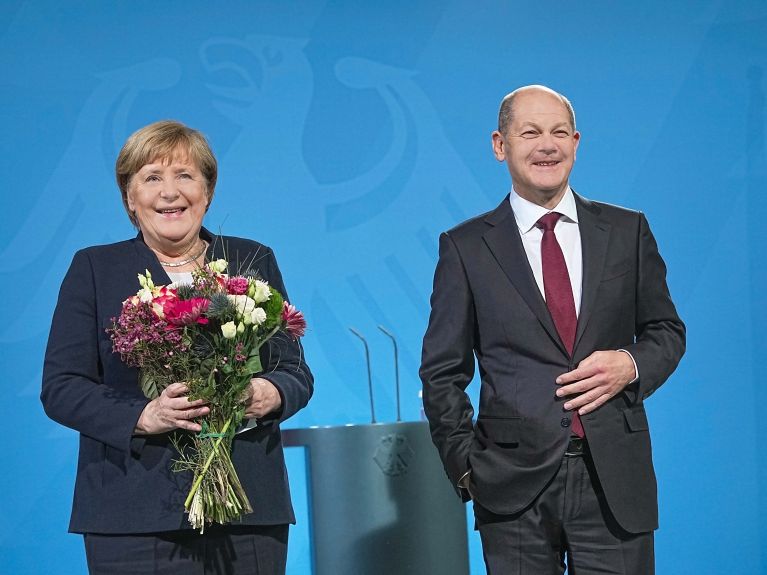 Angela Merkel was Germany's federal chancellor for 16 years. Just ten days more, and she would have been in office for longer than Helmut Kohl, who like her was a member of the Christian Democratic Union of Germany (CDU). Number three on this list is the first chancellor of the Federal Republic of Germany, Konrad Adenauer, likewise CDU, who headed the government for 14 years from 1949. This means the Federal Republic of Germany has been governed for 46 years by these three CDU politicians alone. When Angela Merkel announced that she would not be running in this year's election, nobody knew who would take her place in the Chancellery. Nonetheless, many observers agreed that a candidate from her party, the CDU, would likely have the best chance of success.
Take a look at Angela Merkel's career in pictures here
Now the new chancellor is named Olaf Scholz, and he is a member of the Social Democratic Party of Germany (SPD) – a surprise outcome that hardly anyone would have believed possible just a few weeks before the election. In Merkel's grand coalition, Scholz had been vice chancellor and finance minister since 2018, so he has no lack of government experience. His government has declared that combating the coronavirus pandemic and fighting climate change are among its "central challenges". The goal is for Germany to produce 80 percent of its electricity from renewable energies by 2030 – previously a figure of 65 percent had been targeted.
A portrait of Germany's new Federal Chancellor Olaf Scholz can be found here
What is unusual about Scholz's chancellorship is the coalition that he is heading. Never before in the history of the Federal Republic has there been a governing coalition of three parties. Alongside the SPD (25.7 percent of the vote), the alliance includes the Greens and the Free Democratic Party (FDP), which had won 14.8 and 11.5 percent of the vote in September respectively. One interesting phenomenon is that young voters up to the age of 24 gave the Greens 23 percent, the FDP 21 percent and the SPD – the third-strongest party – just 15 percent.
Further information about the three-way coalition can be found here