The booster company
Mainz-based start-up Biontech has rapidly become a global player and synonymous with the fight against coronavirus.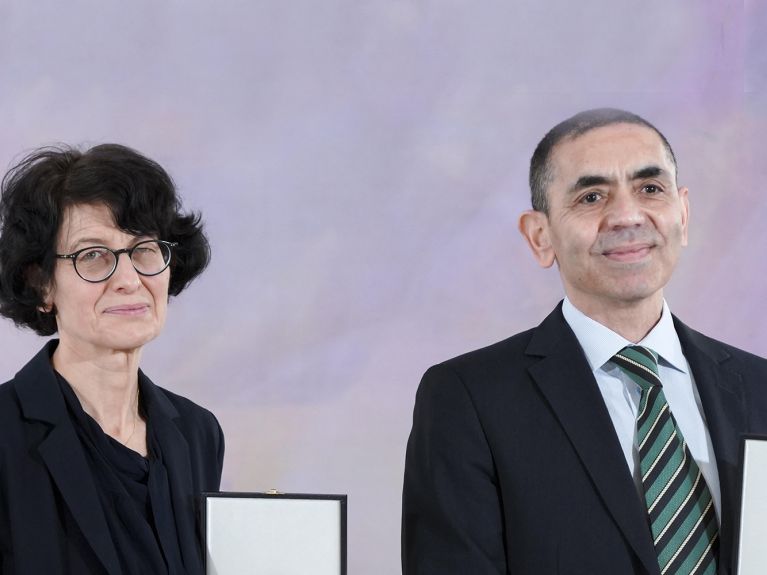 Germany's big success story in 2021 goes by the name of Biontech. Before the coronavirus pandemic, the company, which had been founded by Özlem Türeci and his wife Ugur Sahin – both of them scientists – was known even in Germany only to experts in the field as a start-up that researched genetic treatments for cancer. Within no time all, the Mainz company sunk all of its resources into researching a coronavirus vaccine, entering to this end into a cooperation with the US pharma giant Pfizer. Biontech had also received funding from Germany's Federal Ministry of Education and Research since 2007.
The success of the mRNA vaccine, which was developed and tested in a matter of months, exceeded all expectations. It prevents serious cases of Covid-19 in roughly 90 percent of people. This caused the share price of the company and revenues from the sale of the vaccine to skyrocket, thereby generating huge tax revenues for the two cities that are home to the main Biontech branches – its headquarters are in Mainz and its biggest production facility is in Marburg.
Money for the future
Biontech is investing large sums in the future. Construction on a research campus in Mainz is scheduled to begin in 2022. In total, the company plans to invest more than a billion euros in the Rhineland-Palatinate state capital. Biontech currently employs around 1,800 people in Mainz and 2,800 worldwide. The number of employees in Mainz is to grow to 3,000 or 4,000 over the next five to eight years. The firm's own production facilities in Marburg and Idar-Oberstein are also to be further expanded.
The coronavirus vaccine is also being improved all the time. According to Biontech, it takes roughly 100 days for the first batches to be shipped out following the decision to adapt the vaccine to a new variant of the virus. However, research is also being carried out into new vaccines, as well as towards the main goal that Türeci and Sahin have been pursuing for years: to find active immunotherapies to treat cancer and other serious diseases.
Production for Africa
In Africa, Biontech already plans to set up its own vaccine production plant in 2022. Construction on a first factory is to get underway mid-year – it will be the central hub for a production and research network in Africa. Research will be conducted not only into coronavirus there, but also into other serious diseases. Declarations of intent to this effect have already been signed with the Rwandan government and the Pasteur de Dakar Institute in Senegal.
You would like to receive regular information about Germany? Subscribe here: