"We are dependent on one another"
Digitalisation, education, trade, human rights and corona are the issues that occupy the Regional Director for Sub-Saharan Africa and the Sahel. 
Interview: Clara Krug / 11.12.2020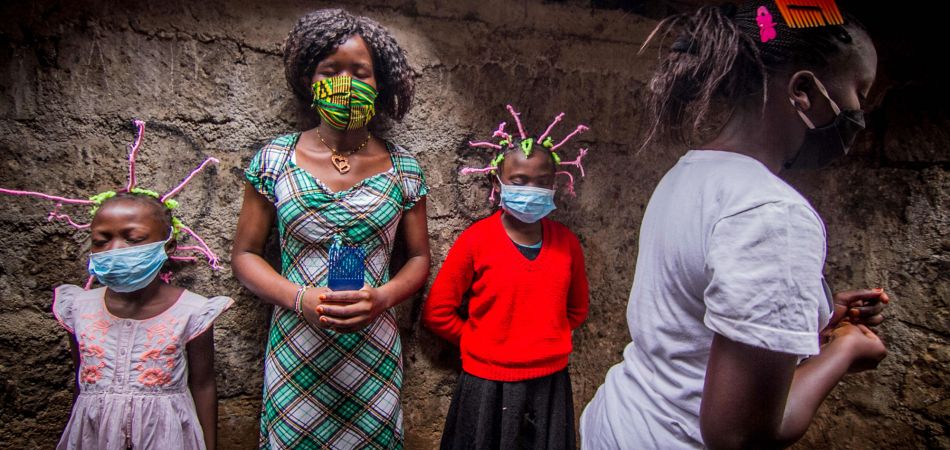 Mr Dölger, you are the Federal Foreign Office's Regional Director for Sub-Saharan Africa and the Sahel. Can you give us some insight into your work?
As Regional Director for Sub-Saharan Africa and the Sahel I am responsible for 48 countries in the region. Of course, I do not work on this broad field alone, but with a very large team, namely the unit at the Federal Foreign Office responsible for the Federal Government's Africa policy. In concrete terms, that means we continuously observe the current situation in countries, write analyses and submit proposals on how our policy there should look.
Of course, that is not possible without strong local contacts: on the one hand, we have our embassies and missions for that and, on the other, normally I also travel frequently to Africa or prepare visits to Germany by our African partners. In addition to the governments, important contacts naturally also include non-state actors, such as non-governmental organisations, religious leaders, associations, research institutes and also the African diaspora in Germany.
Unfortunately, corona has had a major impact on our work. Although the transition to working at home and video conferences was relatively simple here in Berlin, the situation is much more difficult for our embassies and consulates in Africa. Many colleagues were under lockdown for months, helped organise the repatriation of Germans and also distributed relief supplies.
The pandemic has again clearly demonstrated how much our future is bound up together.
Robert Dölger, Regional Director for Sub-Saharan Africa & Sahel at the Federal Foreign Office
We very clearly wish to further intensify our relations with Africa. In doing so, we are very closely following the goals and priority areas of the African Union Agenda 2063 as well as the Federal Government Africa Policy Guidelines: we consciously wish not only to focus on common future issues and interests, including digitalisation, innovation and education, but also to strengthen trade and private investment. Equally, we want to promote human rights, the rule of law and participation in society – especially by women – and intensify civil society contacts. Africa has great potential for renewable energies and possesses impressive biological diversity. That is why the continent is a natural partner for us with regard to climate and environmental protection. We can also only manage and control the issue of migration together. We are therefore dependent on one another in central strategic areas and need to cooperate closely. The pandemic, too, has again clearly demonstrated how much our future is bound up together. We want to build on this common experience.
The subjects of our partnership are obvious. We need joint approaches to environmental protection and energy questions as well as good governance. Germany has invested a great deal in the development of an African peace and security architecture in recent years. How much that is needed is shown by examples such as the current conflict in Ethiopia. Conflicts like these have the potential to spread, also beyond national borders. In future we want to provide even better support for African countries in their efforts to avoid such conflicts and violence with a new European Peace Facility. Furthermore, Europe must assist the African Union in its key project of establishing a continental free trade area. In Europe we have also learned that close economic cooperation between states creates and strengthens stable relationships. Investments and support for education and employment, especially for women and young people, are also important goals against the background of Africa's demographic development.
Together with the WHO, we are campaigning for a fair global distribution mechanism for COVID-19 tests, vaccines and medicines.
Robert Dölger, Regional Director for Sub-Saharan Africa & Sahel at the Federal Foreign Office
To what extent is the corona pandemic defining the agenda of the German EU Council Presidency with regard to Africa?
Of course, the corona pandemic has strongly influenced the agenda of our Council Presidency and continues to do so. Although so far in most African countries we have had to lament fewer deaths than feared, nevertheless, the so-called secondary effects of combating the pandemic are having grave consequences. Agreement was swiftly reached within the EU that we must not only help African countries to contain the disease, but also provide massive assistance to cushion the socioeconomic and humanitarian impacts. In April 2020, as Team Europe, we presented a worldwide package of measures within which Africa forms a regional focus. Together with the World Health Organisation (WHO), we are campaigning for a fair global distribution mechanism for COVID-19 tests, vaccines and medicines and providing support for healthcare systems. We must also not lose sight of the negative effects of the COVID-19 crisis on peace and stability as well as food security in Africa. Germany has already developed important starting points for promoting investment and employment with the G20 Compact with Africa. We must also continue the debate on trade preferences and debt relief within the multilateral framework.
What are your expectations of the EU-Africa summit in 2021?
First of all, I hope it can take place as soon as possible. The summit was originally planned as a physical gathering at the end of October 2020 with all the heads of state and government of the African Union (55 member states) and the European Union (27 member states), but it had to be postponed because of the pandemic situation. A virtual meeting of the European Union and the African Union was held on 9 December 2020 in a smaller format to ensure discussions with the African partners remain unbroken until the summit.
I hope that the forthcoming summit sets an example for solidarity: Europe and Africa are in the same boat – not only when it comes to the major tasks of safeguarding the future, such as environmental protection or climate and energy policy. What is also involved here is the very principle of partnership-based cooperation. We want to create an alternative to international policy approaches that are guided more by national hegemonic interests. I also hope that the summit achieves concrete results with regard to cooperation between industry and society that are tangible for the citizens of both continents.