"Winning the trust of the people"
Temperatures up to 50 degrees and potential danger: Sandra Muth was three months with the Bundeswehr in Mali on a UN mission.
"I served as a deputy company commander in Mali from March to July 2019 and feel that we won the trust of the people. The role of my unit in the MINUSMA stabilization mission is to increase the safety of our camp in Gao, Mali, through our presence. At the same time, we're helping to improve the security of the population together with the other UN troops. Along the way we talk a lot to the people and gain their trust. We conduct patrols around Gao.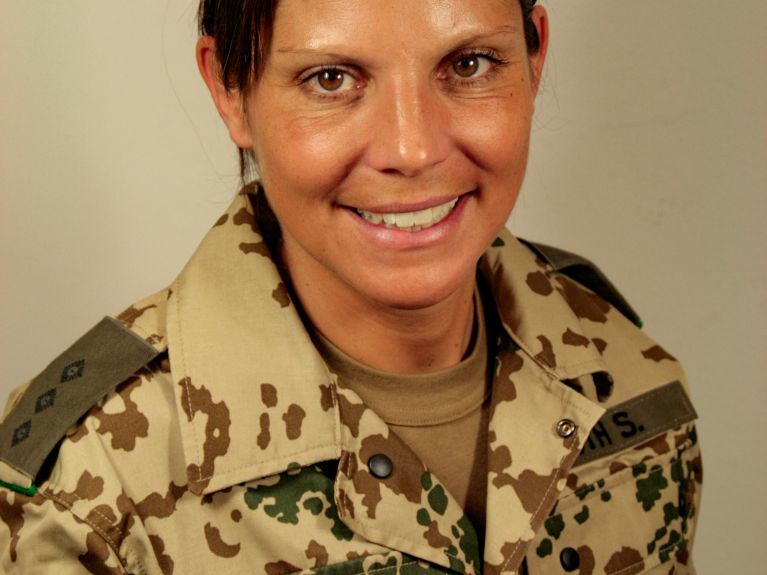 It's very important that our movements are unpredictable. That's why at the Bundeswehr camp in the north of Mali no two days are the same. After a foot patrol we drive back to Gao and get out again. Some of us patrol the city on foot, often at temperatures above 50 degrees Celsius. With all the equipment we carry, that's physically demanding and my comrades and I were glad we were fit enough for it.
At the beginning, the people were still very reserved. But little by little they came up to us more and more to talk – for example, when the schools needed material. In this way, we got a good picture of the mood of the population. The people gave us to understand that they feel safer because of us. Women and small children waved when we came, took our hands and walked together with us through the city. They were very grateful. In my time in Mali, things didn't get so bad.
In the Bundeswehr's foreign deployments, I see we're doing a meaningful job in the countries of operation. That's why I didn't have to think twice about going to Mali. When it became clear that my company was scheduled for half a year of deployment in Mali, I immediately signed up.
We servicemen and women are like a big family; you want to be part of a foreign assignment. For my parents and brothers and sisters, of course, that wasn't so nice, but I think it's the same in every family when a member goes abroad for a while. At the camp, there's the opportunity to talk to the family at home over the Bundeswehr's free support communication or to chat with loved ones on the internet. Of course, there's also the good old field post; the letters and parcels take about a week. You can even get some goodies from home. When the parcels arrive at camp, it's a bit like Christmas."
You would like to receive regular information about Germany?
Subscribe here: